Time to start the discussion of our next novel from The Bestseller Code 100 list,  The Weird Sisters by Eleanor Brown
This post does not contain spoilers.
The Weird Sisters by Eleanor Brown
What it's about: Three grown sisters return to their hometown when their mother falls ill. Although they grew up together and all were named after characters in Shakespeare's plays by their father, the three sisters couldn't be more different. Will the crisis pull them together or break them apart?
Quirky fact:  This book is written in the first person plural.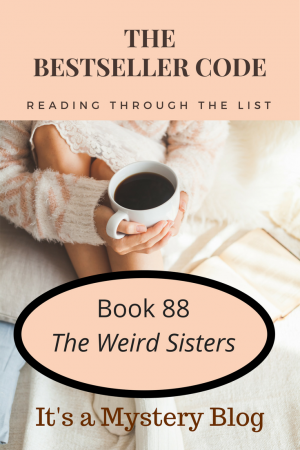 Have you read The Weird Sisters by Eleanor Brown? We'd love to hear your thoughts.
Related posts:
Book-beginnings, a discussion of the first few lines of the novel
Karen's review from a reader's perspective
Roberta's review from a writer's perspective
After you finish the book, you might want to drop by to take our survey.
You can also join us on social media:
Do you have suggestions for ways to improve this reading challenge? We'd love to hear them.
Have you written about The Weird Sisters by Eleanor Brown? Feel free to add a link to your review here.
__________________
What are we reading next?
If you ever have questions about what we are reading next or when we're starting the next discussion, check the 100 Book List tab in the navigation bar at the top of the blog.
The next book is number 87. World War Z by Max Brooks (2006) – Discussion begins May 8, 2017