I'm reading Elizabeth George's nonfiction book about writing, Write Away. To see how she uses the techniques she writes about,  I picked up one of her novels, Careless in Red, for Book Beginnings on Fridays.
Book Beginnings is a fun meme hosted by Rose City Reader blog. To participate, share the first sentence or so of a novel you are reading and your thoughts about it. When you are finished, add your URL to the Book Beginnings page linked above. Hope to see you there!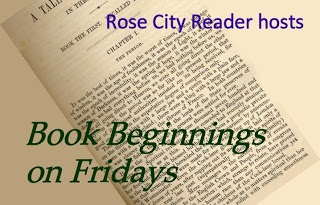 Careless in Red by Elizabeth George (2008)
(*Amazon Affiliate link- As an Amazon Associate I earn from qualifying purchases.)
Summary:  Grieving over the murder of his pregnant wife, former Detective Superintendent Thomas Lynley has been on a long solo walk along the coast of Cornwell when he stumbles onto a body. Although the young man appears to have fallen accidentally, it becomes apparent his death is a murder. Usually the lead investigator, this time Lynley is a witness or even a possible suspect.
First Sentence:
He found the body on the forty-third day of his walk.
Discussion:
In the previous novel, Lynley had resigned because of the death of his wife. As a fan, I want to know will he go on with his life or will he return to Scotland Yard? Finding a body is promising that he will return in some capacity. Can't wait to delve into this one.
56
The Friday 56 is hosted by Freda's Voice. The premise is simple. Turn to page 56 in the book and pick a quote.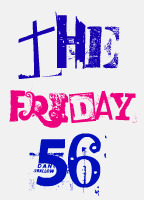 Thomas Lynley returned to them then…He handed over the clothing the DI asked for. It's absurd, Dairdre thought. He's going to catch his death if he wandered round like that:  no jacket, no shoes, and just a thin white boiler suit of the type worn at crime scenes to ensure that the official investigators did not leave trace evidence behind.
Apparently a boiler suit is a pair of white coveralls.
Although Elizabeth George is an American who lives on the West Coast, she writes mysteries set in Britain with accurate details like this. I can't imagine how she writes the setting and vocabulary so authentically.
What do you think? Have you ever read a novel by Elizabeth George? Would you like to give this one a try?