Michael Connelly started out as a crime reporter in Florida and eventually moved to Los Angeles. Inspired by Raymond Chandler, he began writing mystery novels. He has twenty-one bestselling titles in the Harry Bosch series alone.
I decided to read his novels when my stepfather recommended him. Wow, was he right.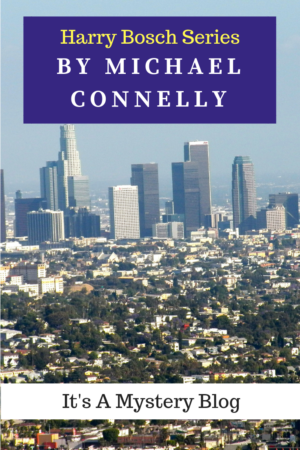 Michael Connelly novels:
Harry Bosch Series:
Los Angeles Police Detective Hieronymus (Harry) Bosch is Michael Connelly's most famous character. (Red = read)
The Black Echo (1992)
The Black Ice (1993)
The Concrete Blonde (1994)
The Last Coyote (1995)
Trunk Music (1997)
Angels Flight (1999)
A Darkness More Than Night (2001)

City Of Bones (2002)
Lost Light (2003)
The Narrows (2004) (sequel to The Poet, below)
The Closers (2005) – shelf

Echo Park (2006) -shelf
The Overlook  (2007) -shelf

Nine Dragons (2009) (also featuring Mickey Haller)- shelf
The Drop (2011)
 – shelf
The Black Box (2012) -ordered
The Burning Room (2014)
The Crossing (2015) (also featuring Mickey Haller)

The Wrong Side Of Goodbye (2016) (also featuring Mickey Haller)

Two Kinds Of Truth (2017) (also featuring Mickey Haller)

Dark Sacred Night (coming October 2018) (also featuring Renée Ballard)
Connelly's main character also inspired the popular Amazon series Bosch, loosely based on the novels.
Michael Connelly has also written novels featuring other characters:
Jack McEvoy- reporter:
The Poet (1996)
This novel has a great first line:
Death is my beat.
Henry Pierce – chemical scientist and entrepreneur:
Chasing the Dime (2002) -shelf
Mickey Haller -defense attorney:
The Lincoln Lawyer (2005)
The Brass Verdict (2008) -shelf
The Reversal (2010)
The Fifth Witness (2011)
The Gods of Guilt (2013) – shelf
Renée Ballard – police detective:
The Late Show (2017)
(*Amazon Affiliate link)
Renée Ballard is a police detective who works the midnight shift, catching new cases but never getting the opportunity to see them through because they are passed on to the day shift. That is until she and her partner are sent to the hospital to check on a badly beaten prostitute and a young waitress who was shot in a bar fight. Renee senses these are important cases and decides to follow the investigations to the end. Can she obtain justice for the victims no one else cares about?
Connelly tends to torture his main characters with workplace problems. In this case, Renée Ballard is working the midnight shift because she had accused her supervisor of sexual harassment and the supervisor demoted her.
I can't wait to see the sparks fly when Harry Bosch meets Renée Ballard in Dark Sacred Night coming out in October 2018.

###
About Author Posts:
Because I read a lot of mysteries, I've been trying to come up with a better system to keep track of which novels I've finished. I thought blogging would help, which it does, but I don't always review everything I read. To get more organized, I've decided to create a series of author posts with lists of novels and links to my reviews. I plan to edit these pages as needed.