Lisa Gardner is a prolific bestselling author known for writing thrillers.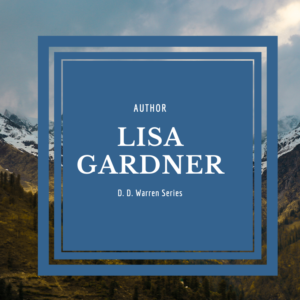 Although labelled as thrillers, the novels I've read don't neatly fit in one genre. Gardner's novels do follow the thriller model because the action is fast paced and tension runs high.  In a typical thriller, however, the killer/villain is revealed early on and the reader wonders whether the protagonist will be able to  catch them. Gardner's novels (the few that I've read so far) ask whether the protagonist will find out who did it, closer to a standard mystery/police procedural formula.
One unique aspect to her novels that I have noticed is that Gardner includes a major character who is either a victim and/or a stand in for the victim. We learn about the victim's experiences, which adds a lot of depth and complexity to the story. She also carefully researches the experiences, giving rich details.
I've seen Lisa Gardner promoting her newest title, When You See Me this month. That reminded me I have picked up a couple more of her books for my TBR pile and I have no idea what order to read them in. Time to get organized!
Note:  It turns out that each novel stands alone pretty well, except for a few personal aspects of D.D. Warren's life. No need to read them in order unless you can.
Detective D.D. Warren books in order:
Alone (2005)
Hide (2007) – reviewed (Also recently watched the movie based on the book)
The Neighbor (2009)
Live to Tell (2010) – full of information about the realities of a pediatric psych facility
Love You More (2011)
Catch Me (2012)
Fear Nothing (2014) – shelf (signed copy)
Find Her (2016) – Introduces the character Flora Dane (who reappears in Never Tell).
Look for Me (2018)
The Guy Who Died Twice (2019)
Never Tell (2019) –reviewed
When You See Me (2020)
FBI Profiler books in order:
The father/daughter team of Pierce and Kimberly Quincy.
The Perfect Husband (1998)
The Third Victim (2001)
The Next Accident (2001)
The Killing Hour (2003)
Gone (2006)
Say Goodbye (2008) – A clear example of suspense with scenes sprinkled throughout from the antagonists' points of views. Cool spider theme, too.
The 4th Man (2017)
Right Behind You (2017)
When You See Me (2020)
Tessa Leoni series in order:
Tessa is a former Massachusetts State Trooper, now a PI.
Love You More (2011)
Touch & Go (2013)
Crash & Burn (2015) – The main character is the epitome of an unreliable narrator.  She's had three severe head injuries. Unreliable narrators are not my favorite in mysteries because they interfere too much with the reader's ability to solve the crime.  Blah.
Stand Alones:
Before She Disappeared (2021) -Frankie Elkin looks for missing persons. It is her obsession. The only problem is that she is an ordinary woman, without training, support, or credentials. Understandably, both the families of the missing and the police distrust her. When she travels to a Boston neighborhood to look for a girl who disappeared after school, she has to watch for danger around every corner so she doesn't go missing as well. -Enjoyed this one.
About Author Posts:
Because I read a lot of mysteries, I've been trying to come up with a better system to keep track of which novels I've finished. I thought blogging would help, which it does, but I don't always review everything I read. To get more organized, I've decided to create a series of author posts with lists of novels and links to my reviews. I plan to edit these pages as needed.