Let's take a look at the novel Never Tell by Lisa Gardner for Book Beginnings on Fridays.
Book Beginnings is a fun meme hosted by Rose City Reader blog. To participate, share the first sentence or so of a novel you are reading and your thoughts about it. When you are finished, add your URL to the Book Beginnings page linked above. Hope to see you there!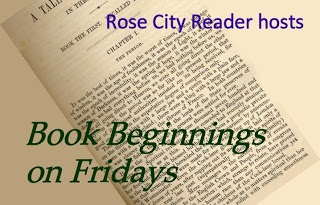 Never Tell*by Lisa Gardner
(*Amazon Affiliate link)
Summary:  When a pregnant woman named Evie Carter is found next to her dead husband holding a gun in her hand, Detective D.D. Warren realizes she has encountered Carter at a prior crime scene. Years before Evie confessed to accidentally shooting her father. Was the previous case actually murder? Is  this case as open and shut as it appears?
First Sentence:
By the time I pull my car into the garage, my hands are shaking on the wheel. I tell myself I have no reason to feel so nervous.
Discussion:
Evie is the narrator of the first scene. It really grabbed me and made me want to know what was going on. Including the viewpoints of those caught up in the crime — not just those investigating — is one of Lisa Gardner's strengths (see previous review of Hide).
I picked this novel up at the airport because I'd already finished the novel I had intended to read on the flight. I'm glad I did! It was engrossing enough to make the time fly (pun intended?), but wasn't so complicated that I'd lose track of the plot whenever I got interrupted. I would call this the perfect airplane read.
What do you think? Have you read any of Lisa Gardner's novels?
What is your favorite airline novel?