Louise Penny is a popular mystery novelist. She has a deft hand with plotting, pace, and character development, plus her setting — The village of Three Pines in Canada — shines.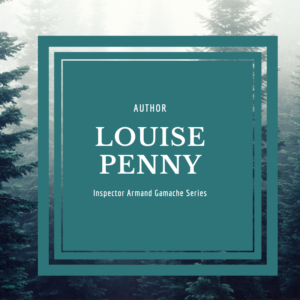 Penny based her main character Inspector Armand Gamache (of the Sûreté du Québec) on her husband, Michael. Unlike detectives in many mysteries , Gamache is a well-rounded family man who is also good at his job.
People ask if the series should be read in order. My recommendation is that if you are going to read them all, then in order is preferable because they do build on one another. On the other hand, I skipped to the most recent one and was still able to enjoy it without reading all that came before.
Inspector Gamache Books in order:
Still Life (2005)
A Fatal Grace (2007)
The Cruelest Month (2008)
A Rule Against Murder (2009)
The Brutal Telling (2009)
Bury Your Dead (2010)
The Hangman (2010)
A Trick of the Light (2011)
The Beautiful Mystery (2012)
How the Light Gets In (2013)
The Long Way Home (2014)
The Nature of the Beast (2015)
A Great Reckoning (2016)
Glass Houses (2017)
Kingdom of the Blind (2018) –reviewed here
A Better Man (2019)
###
About Author Posts:
Because I read a lot of mysteries, I've been trying to come up with a better system to keep track of which novels I've finished. I thought blogging would help, which it does, but I don't always review everything I read. To get more organized, I've decided to create a series of author posts with lists of novels and links to my reviews. I plan to edit these pages as needed.