Yay! I scored a copy of Louise Penny's newest, A Better Man, from the library for Book Beginnings on Fridays.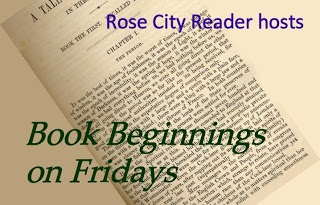 Book Beginnings is a fun meme hosted by Rose City Reader blog. To participate, share the first sentence or so of a novel you are reading and your thoughts about it. When you are finished, add your URL to the Book Beginnings page linked above. Hope to see you there!
A Better Man by Louise Penny
(*Amazon Affiliate link)
Summary:   Chief Inspector Armand Gamache is back at the Sûreté du Québec, but it hasn't been an easy return. He's under attack in social media, he's in a delicate position because he's been given equal rank to his own son-in-law, plus spring floods threaten. An assignment to look for a young woman who is missing seems like it might be a welcome respite from his problems. Or is it?
First Sentence:
The novel starts with two apparent tweets:
What's happened to Clara Morrow? She used to be a great artist. #MorrowSucks

Are you kidding me? They let him back in the Sûreté? #SûretéSux
Discussion:
The tweets are part of a theme of this novel. Throughout Louise Penny raises awareness of the impact of unkindness of social networks, perhaps in response to some readers who have posted not so pleasant tweets about herself or her books? Let's hope the studies that show reading novels increases empathy have some merit.
Penny always has strong settings, but in this one man-vs-nature comes into play in a big way in the form of floods.
What do you think? Would your keep reading?