Today I'm reading Kingdom of the Blind by Louise Penny for Book Beginnings on Fridays.
Book Beginnings is a fun meme hosted by Rose City Reader blog. To participate, share the first sentence or so of a novel you are reading and your thoughts about it. When you are finished, add your URL to the Book Beginnings page linked above. Hope to see you there!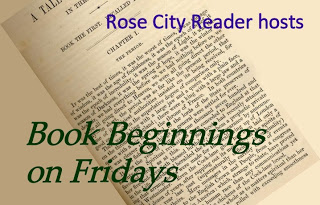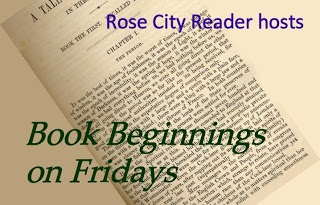 Kingdom of the Blind by Louise Penny
(*Amazon Affiliate link)
Summary:  How do you summarize a complex novel like this one? Here's the gist:
A stranger has named Chief Inspector Armand Gamache to be one of the executors of her will, along with a bookseller named Myrna Landers and a young builder. Still suspended because of an investigation in a case that went wrong months before, Gamache agrees to accept the task as a way to keep occupied. What would seem to be a straightforward duty becomes troublesome, however, when they read the bizarre terms of the will, which before long leads to murder.
As if that weren't enough, the case that got him suspended rears its ugly head again and he must track down missing drugs and work to clear his name.
First Sentences of Kingdom of the Blind:
Armand Gamache slowed his car to a crawl, then stopped on the snow-covered secondary road.

This was it, he supposed. Pulling in, he drove between the tall pine trees until he reached the clearing.

There he parked the car and sat in the warm vehicle looking out at the cold day. Snow flurries were hitting the windshield and dissolving.
Discussion:
The Chief Inspector Gamache series are set in Canada, around Québec and Montreal. I love the way she describes the snow and the cold.
Although this copy is from the library, I noticed that Louise Penny has almost an entire shelf to herself at our local bookstore. Her books are very popular.
Do you think it is surprising that the title is Kingdom of the Blind rather that The Kingdom of the Blind?
Have you read any of this series? What do you think?