This week we have MatchUp, the new collection of short stories edited by Lee Child for Book Beginnings on Fridays.
Book Beginnings is a fun meme hosted by Rose City Reader blog. To participate, share the first sentence or so of a novel you are reading and your thoughts about it. When you are finished, add your URL to the Book Beginnings page linked above. Hope to see you there!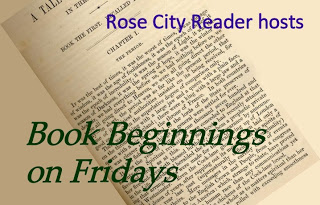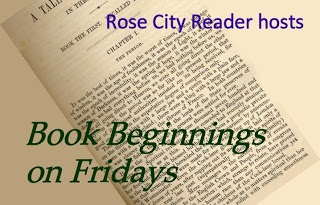 (*Amazon Affiliate link)
About MatchUp:
This book is a collection of short stories written by twenty-two members of the International Thriller Writers organization. Each short story pairs famous authors, one female and one male, and features the main characters from their respective thrillers.
Sandra Brown and C. J. Box
Val McDermid and Peter James
Kathy Reichs and Lee Child
Diana Gabaldon and Steve Berry
Gayle Lynds and David Morrell
Karin Slaughter and Michael Koryta
Charlaine Harris and Andrew Gross
Lisa Jackson and John Sandford
Lara Adrian and Christopher Rice
Lisa Scottoline and Nelson DeMille
J.A. Jance and Eric Van Lustbader
A short blurb profiling the authors, explaining their process, etc. precedes each short story.
First Sentence:
When Joe Pickett set out that morning, he hadn't anticipated coming face-to-face with a killing machine.
This sentence is from the first short story, Honor & …
Discussion:
Last weekend a friend and I went to a pre-release book signing sponsored by The Poisoned Pen bookstore. Laurie King (author of the series  which features Mary Russell and Sherlock Holmes starting with The Beekeeper's Apprentice) interviewed Diana Gabaldon. They talked about writing short stories. Some of the highlights:
Diana Gabaldon said she won't be doing a signing of Seven Stones To Stand or Fall when it releases because she's expecting her first grandchild around then. That's why she was signing MatchUp now.
Although Seven Stones is supposed to be short stories, it turns out a short story (usually 18,000 words maximum) for Diana is 75,000 words, which is a full novel by most standards. There were a lot of jokes about this.
Her next book is titled Go Tell The Bees I am Gone. It's in the works, but not completed yet.
She writes from midnight to 4:00 a.m. That is amazing, but I totally get it. In the early morning the world is quiet and there aren't any interruptions. Well, except when I try to write in the early morning my cats go ballistic. They say, "Alright! Someone is up when we like to play!" Diana has a dog, but she says he stays quiet, too. Lucky her.
She says she includes bathroom breaks for readers in her stories. Too fun.
I could go on and on.
Have you read Diana Gabaldon's books? Do you think you'll read MatchUp?