Let's took a look at Kinsey and Me by Sue Grafton for Book Beginnings on Fridays.
Book Beginnings is a fun meme hosted at  Rose City Reader blog. To participate, share the first sentence or so of a novel you are reading and your thoughts about it. When you are finished, add your URL to the Book Beginnings page linked above. Hope to see you there!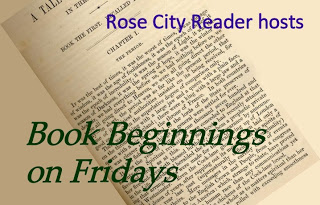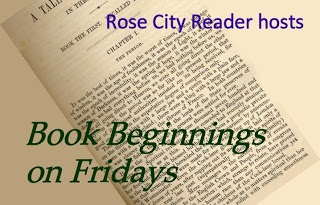 Sue Grafton's Kinsey and Me*
What it's about:
This book is a collection of short stories. The first nine are private detective stories featuring the main character of Sue Graftons's famous series, Kinsey Millhone. The second part includes thirteen stories with Kit Blue, who Grafton reveals is a younger version of herself. In those stories she examines her struggles with being the daughter of alcoholics.
Today, I'm going to give you two quotes. This one is from the dust jacket, referring to the stories in the second part of the book:
"I wish life could be edited as deftly as prose. It would be nice to go back and write a better story, correcting weaknesses and follies in the light of what I now know. ~ Sue Grafton
First paragraph of the first short story:
I squinted at the woman sitting across the desk from me. I could have sworn she'd just told me there was a dead man in her daughter's bed, which seemed like a strange thing to say, accompanied, as it was, by a pleasant smile and a carefully modulated tone. Maybe I'd misunderstood..
Discussion:
This book seems to have a lot going on.
Regarding the dust jacket quote, isn't that a particularly lucid way to put what many of us has felt at one time or another?
As for the first paragraph, I love the juxtaposition of the dead body and the pleasant smile.  Does it work for you?
Finally, when I was typing in the quote I noticed all the commas in the second sentence. What do you think of the comma after "accompanied"? Is is necessary?
Are you a fan of Sue Grafton's Kinsey Millhone series?