Let's take a look at the young adult novel The Nightmare Affair by Mindee Arnett for Book Beginnings on Fridays.
Book Beginnings is a fun meme hosted by Rose City Reader blog. To participate, share the first sentence or so of a novel you are reading and your thoughts about it. When you are finished, add your URL to the Book Beginnings page linked above. Hope to see you there!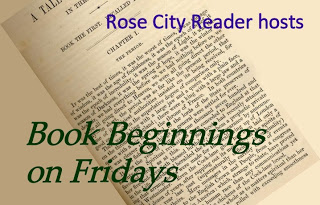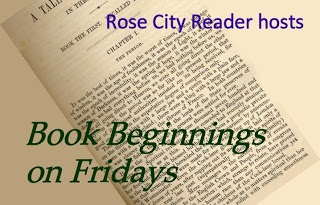 The Nightmare Affair by Mindee Arnett
(*Amazon Affiliate link)
Summary:  A student at Arkwell Academy for magic, sixteen-year-old Dusty Everhart breaks into houses at night. She doesn't, however, break in to steal possessions. Instead she enters the dreams of sleeping people, feeding off their energy. When she sees the murder of a fellow student in a boy named Eli's dream, Dusty teams up with Eli to try to figure out who killed the girl and why.
First Sentence:
Breaking and entering wasn't as easy as it looked in the movies. Especially not from the second story of a house in the suburbs, Yet there I was, perched on the ledge by my tippy toes and tugging on the stupid window that refused to budge even though I could see it wasn't locked. My feet were starting to cramp.
Discussion of The Nightmare Affair by Mindee Arnett
Some other regulars at Book Beginnings have featured books by Mindee Arnett, so I was eager to read the first in her Arkwell Academy trilogy.
So far I really like the first person voice of the protagonist. She sounds like a teenager, which is appropriately young adult. I also like that it seems to meld fantasy with a bit of romance and a good mystery.
What do you think? Have you read any of Mindee Arnett's books? Do you think you'd like to read this one?