Dorothy Gilman (1923-2012) wrote children's books under her married name, Dorothy Gilman Butters, for a number of years before starting the popular Mrs. Pollifax series.  Gilman traveled extensively and used her experiences to send her protagonist to exotic locations throughout the world.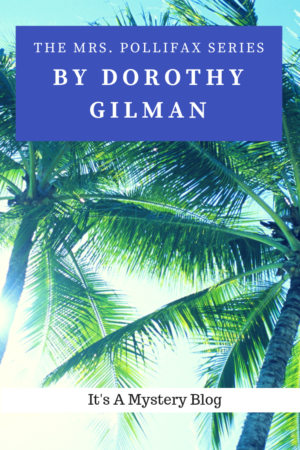 The Mrs. Pollifax Series by Dorothy Gilman
Mrs. Virgil (Emily) Pollifax of New Brunswick, New Jersey, is a widow with grown children and an unremarkable life. She is tired of attending her Garden Club meetings and frankly, is more than a little depressed. She wants to do something good for her country, so she begins to volunteer as a CIA agent.
(Red = Have read the book)
• The Unexpected Mrs. Pollifax (1966)
• The Amazing Mrs. Pollifax (1970)
• The Elusive Mrs. Pollifax (1971)
• A Palm for Mrs. Pollifax (1973)
• Mrs. Pollifax on Safari (1977)
• Mrs. Pollifax on the China Station (1983)
• Mrs. Pollifax and the Hong Kong Buddha (1985)
• Mrs. Pollifax and the Golden Triangle (1988)
• Mrs. Pollifax and the Whirling Dervish (1990)
• Mrs. Pollifax and the Second Thief (1993)
• Mrs. Pollifax Pursued (1995)
• Mrs. Pollifax and the Lion Killer (1996)
• Mrs. Pollifax, Innocent Tourist (1997)
• Mrs. Pollifax Unveiled (2000)
The Unexpected Mrs. Pollifax*by Dorothy Gilman
(*Amazon Affiliate link)
This is a delightful series with so much going for it:
The protagonist, Mrs. Pollifax,  is smart and personable. You want to be friends with her or, better yet, have her as your grandmother.
The mysteries are not predictable because Gilman has a talent for surprising the reader.
The stories are still fresh and relevant, which is amazing given the first one was written over 50 years ago.
Being a CIA agent allows Mrs. Pollifax to travel throughout the world and you get to travel with her.
The novels are quick and easy to read (which is a bit of a negative because sometimes it might feel like you've finished too soon.)
Before I prepared the list, I thought I had read all the books in the series. Now I see I have missed two novels. Time to hunt them down!
A special thank you to Karen for introducing me to these books and supplying most of the copies.
###
About Author Posts:
Because I read a lot of mysteries, I've been trying to come up with a better system to keep track of which novels I've finished. I thought blogging would help, which it does, but I don't always review everything I read. To get more organized, I've decided to create a series of author posts with lists of novels and links to my reviews. I plan to edit these pages as needed.