My novel today is My Sister, The Serial Killer by Oyinkan Braithwaite for Book Beginnings on Fridays.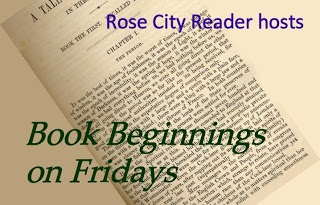 Book Beginnings is a fun meme hosted by Rose City Reader blog. To participate, share the first sentence or so of a novel you are reading and your thoughts about it. When you are finished, add your URL to the Book Beginnings page linked above. Hope to see you there!
My Sister, The Serial Killer by Oyinkan Braithwaite
(*Amazon Affiliate link)
Summary:  Korede's spoiled and beautiful sister Ayoola has a habit of killing her boyfriends. Up to now Korede has dutifully cleaned up her sister's messes. When her sister catches the eye of the handsome doctor Korede has a crush on, however, she begins to question where her loyalties lie.
First Sentence:
Ayoola summons me with these words — Korede, I killed him.

I had hoped I would never hear those words again.
Discussion:
I picked up this novel because it is the title the Writer Unboxed Facebook group plans to dissect on Oct. 24-27.  Writer Unboxed is a long running and highly informative blog for writers.  The Facebook group reads a novel together and discusses it from a writer's perspective.
Plus, I have to admit the title made me curious.
What do you think? Would read about a character who covers up for a serial killer?