This week I'm reading Scot Free by Catriona McPherson for Book Beginnings on Fridays.
Book Beginnings is a fun meme hosted by Rose City Reader blog. To participate, share the first sentence or so of a novel you are reading and your thoughts about it. When you are finished, add your URL to the Book Beginnings page linked above. Hope to see you there!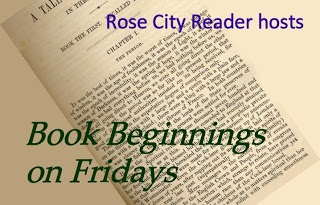 Scot Free* by Catriona McPherson
(*Amazon Affiliate link- As an Amazon Associate I earn from qualifying purchases.)
Summary:  In the first novel  in the Last Ditch Mystery series, marriage counselor Lexy Campbell had fallen in love with a dentist and moved from her native Scotland to California. After discovering her husband's true motivations, she divorces him and is about to fly back to Scotland when she's embroiled in the bizarre death of one of her clients and has to stay longer than expected. Can she solve the murder so she can get on with her life?

First Sentence:
Outside my windows, mortars fired rockets into the darkness and the night was rent by the crack of gunpowder and the screams of children.
Discussion:
Let's just say the author is playing with us a bit.
56
The Friday 56 is hosted by Freda's Voice. The premise is simple. Turn to page 56 in the book and pick a quote.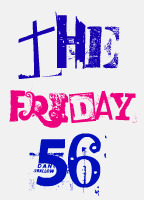 A tall, slim, kind of catalogue-modelly man in overstarched casuals came out and stood frowning on the doorstep. "Call me Bang-Bang," he said. His shirtsleeves and chinos crackled as he moved towards me and shook my hand.
Although it falls into the cozy-mystery genre, this series has an edgier feel than most cozies.
Like her protagonist, author Catriona McPherson moved from Scotland to Davis, California to be with her husband. The novel is full of wry humor as she deals with the mistakes and mishaps that occur when two cultures collide.
What do you think? Have you read any novels by Catriona McPherson? Do you like humorous cozy mysteries?