John Sandford (real name John Roswell Camp) started out as a journalist. After a distinguished career, including winning a Pulitzer, he decided that he could make more money writing novels. It turned out to be a good choice.
You can find out why he chose to write under a pseudonym for the Prey series and more at his website.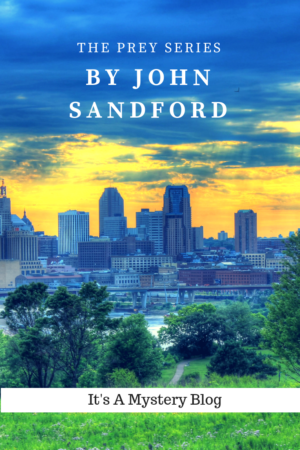 The Prey series featuring Lucas Davenport:
For the earlier novels, Lucas Davenport works for various law enforcement agencies in the city of Minneapolis. In the later novels, he goes to work for the U.S. Marshals Service and travels throughout the U.S.
1. Rules of Prey (1989)
2. Shadow Prey (1990)
3. Eyes of Prey (1991)
4. Silent Prey (1992)
5. Winter Prey (1993)
6. Night Prey (1994)
7. Mind Prey (1995)
8. Sudden Prey (1996)
9. Secret Prey (1998)
10. Certain Prey (1999)
11. Easy Prey (2000) –Reviewed
12. Chosen Prey (2001)
13. Mortal Prey (2002)
14. Naked Prey (2003)
15. Hidden Prey (2004)
16. Broken Prey (2005)
17. Invisible Prey (2007)
18. Phantom Prey (2008)
19. Wicked Prey (2009)
20. Storm Prey (2010)
21. Buried Prey (2011)
22. Stolen Prey (2012)
23. Silken Prey (2013) -reviewed below
24. Field of Prey (2014) -shelf
25. Gathering Prey (2015) -shelf
26. Extreme Prey (2016)
27. Golden Prey (April 25, 2017) – Reviewed
28. Twisted Prey (April 24, 2018)
29. Neon Prey (April 23, 2019)
He also has a series featuring Virgil Flowers (as John Sandford) and the Kidd series, originally published under the name John Camp (some more recent editions name John Sandford instead).
Silken Prey* by John Sandford
Jacket Blurb:  Dirty politics hits a new low when one of the candidates of a close race, an incumbent U.S. senator, is caught with child porn. The governor entices Lucas Davenport to investigate whether the senator was framed and if so, by whom. When a political fixer disappears, the trail of dirty tricks points to the senator's opponent, a smart and powerful young woman. Is she the one and will Lucas be able to stop her?
Characters
John Sandford is an absolute master at creating fully-rounded characters. He has a way of introducing each new person vividly and with memorable details, so that it is easy to keep them straight.
Lauren opened the door, a slender woman, not tall, with red hair and high cheekbones and a big smile.
Describing his friend Elle, the nun:
… now wore what Lucas called "the drabs:  brown or gray dresses and long stockings with a little brown coif stuck on top of her head like the vanilla twist on a Dairy Queen cone.
Can't you see her?  Although, if the coif is brown, perhaps it should have been a chocolate twist?
His villains are also memorable and well-developed, something that isn't always easy to do. According to his website, Sandford apparently researches criminals (true crime) so that his antagonists are fictionalized versions of real people or events.
Genre
The Lucas Davenport novels are firmly in the thriller camp. Readers learn quite soon who is behind the dirty tricks and also what happened to the guy who disappeared. The readers spends the rest of the time wondering if Davenport will also be able to figure out what is going on and stop the criminals in time. The cool thing is, with the Prey series it isn't a given that everything will be wrapped up neatly in a bow at the end.  Knowing that ramps up the tension.
Conclusion
John Sandford is a frequent guest at Poisoned Pen Bookstore. You can get to know him better in this video of his book signing for Extreme Prey.
As Douglas Preston notes, John Sandford's works seem prescient at times. He has a special talent to be able to keep his novels relevant years after they were first published.
An aspiring writer would do well to study John Sandford's techniques.
###
About Author Posts:
Because I read a lot of mysteries, I've been trying to come up with a better system to keep track of which novels I've finished. I thought blogging would help, which it does, but I don't always review everything I read. To get more organized, I've decided to create a series of author posts with lists of novels and links to my reviews. I plan to edit these pages as needed.