We have the newest Jane Hawk thriller, The Crooked Staircase by Dean Koontz for Book Beginnings on Fridays.
Book Beginnings is a fun meme hosted by Rose City Reader blog. To participate, share the first sentence or so of a novel you are reading and your thoughts about it. When you are finished, add your URL to the Book Beginnings page linked above. Hope to see you there!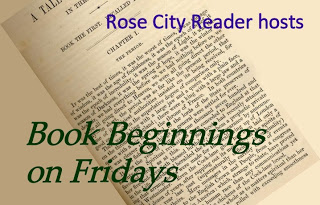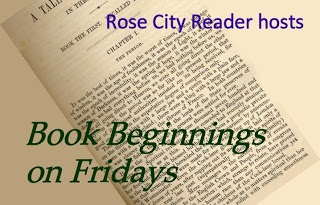 The Crooked Staircase* by Dean Koontz
Summary:  In the third novel of the series, Jane Hawk is still hunting the secret organization responsible for her husband's death as well as the deaths countless other innocent victims. Previously an FBI agent, her pursuit of the villains has turned her former employers against her, so now she is running from both former friends and enemies. Will she be able to stop the man behind it all before her pursuers catch her?
First Sentence of The Crooked Staircase:
At seven o'clock on that night in March, during a thunderless but heavy rain pounding as loud as an orchestra of kettledrums, Sara Holdsteck finally left the offices of Paradise Real Estate, carrying her briefcase in her left hand, open purse slung over her left shoulder, right hand free for a cross-body draw of the gun in the purse.
Discussion:
What a lot of information in one sentence! We have the who, when, and where as well as a set up that leaves the reader wondering what is going to happen next.
Conventional wisdom says not to start a novel with a reference to the weather, but since this sentence includes so much else in addition to the rain, I think it works.
What do you think? Have you read any of Koontz's Jane Hawk thrillers?

Hope you are having a wonderful Friday!