This week let's listen to The Deep, Deep Snow by Brian Freeman for Book Beginnings on Fridays.
Book Beginnings is a fun meme hosted by Rose City Reader blog. To participate, share the first sentence or so of a novel you are reading and your thoughts about it. When you are finished, add your URL to the Book Beginnings page linked above. Hope to see you there!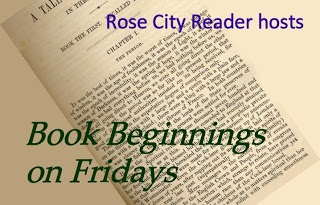 The Deep, Deep Snow* by Brian Freeman
(*Amazon Affiliate link)
The Deep, Deep Snow is a standalone novel. Because I received a free audiobook, I listened to it rather than read it.
Summary:  When Deputy Shelby Lake was abandoned as a baby, she was saved by a stranger who found her on his doorstep in the freezing cold.
Now, years later, a young boy is missing. The only evidence of what happened to ten-year-old Jeremiah Sloan is a bicycle left behind on a lonely road. Can Shelby find the boy as her adopted father once did for her?
First Sentence Prologue:
The first thing you should know about me is that I believe in signs. Omens. Premonitions. I grew up believing that things happen for a reason.
First Sentence Chapter One:
On the day that Jeremiah Sloan disappeared, I was teasing Monica Constant about her dead dog.
Discussion:
Listening to a book is such a different experience than reading it, but both these first lines made me want to continue.
It turns out Monica's dog is a running joke.
56
The Friday 56 is hosted by Freda's Voice. The premise is simple. Turn to page 56 in the book and pick a quote.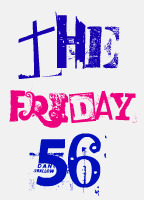 His booming voice scared a few birds, but that was all. There was no answer. That didn't stop him from hollering again. He was a handsome park ranger with the strong physique of a lumberjack, and strong men always labored under the illusion that they could solve any problem if they swung a little harder, talked a little louder, or ran a little faster. Life didn't work that way.
I really enjoyed this book. At one point it skips ten years ahead in time, which allows the reader the see who changed substantially and who didn't change much. There's also a subplot that explores memory loss that I found poignant.
Aside:  Do you regularly listen to audiobooks? I don't and some things surprised me. For example, I usually skip or skim long descriptions when I read  — as a matter of habit. Having to listen to every word made me realize  am missing a lot of setting and mood by skimming. In the same vein, I also tend to skim or skip sections that are too emotional or too frightening, which allows me to control how I react to it. Again, by listening, I felt the impact of every word.
Although I said I hear every word, there were a few times when environmental noise made me miss something and it isn't easy to go back a few lines, at least not on the phone.  Has anyone figured out a solution for this?
What do you think? Have you ever read a book by Brian Freeman? Would you continue reading this one?