Today I pulled out The Ice Dragon by George R. R. Martin for Book Beginnings on Fridays.
Book Beginnings is a fun meme hosted by Rose City Reader blog. To participate, share the first sentence or so of a novel you are reading and your thoughts about it. When you are finished, add your URL to the Book Beginnings page linked above. Hope to see you there!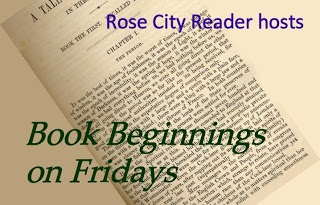 The Ice Dragon* by George R. R. Martin and illustrated by Luis Royo
(*Amazon Affiliate link)
Summary:  When the fiery dragons swoop in and threaten Adara's community, she has a secret — in the form of an ice dragon — that could help stave off destruction.
First Sentence:
Adara liked the winter best of all, for when the world grew cold, the ice dragon came.
Discussion:
If you've never heard of The Ice Dragon, be prepared that this is not George R.R. Martin's usual giant tome. Instead it is a wisp of a novella; it is short and sweet.
I have read this before and it really moved me. That's why I like to pick it up again once in awhile.
My thoughts:
I absolutely love, love the illustrations. They are breathtaking. The way the words flow has a special quality, too.
I also love that the story has flaws. It reminds me of a really old pane of glass, one that is full of bubbles and is so wavy your view through it is a bit distorted. If you expect a piece of glass to be clear and straight and perfect in a modern way, then you will be disappointed. But if you appreciate that not everything needs to be perfect to be beautiful, then this is the book for you.
Here's a snippet to help you decide.
What do you think? Have you read The Ice Dragon? Are you a George R. R. Martin fan?