Sujata Massey taught English in Japan for several years.  She used her experiences to create the delightful Rei Shimura mystery series.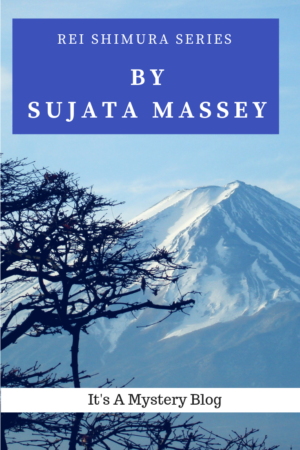 Novels by Sujata Massey
Rei Shimura series:
The Salaryman's Wife (1997) –review
Zen Attitude (1998)
The Flower Master (1999)
The Floating Girl (2000)
The Bride's Kimono (2001)
The Samurai's Daughter (2003)
The Pearl Diver (2004) – reviewed below
The Typhoon Lover (2005)
Girl in a Box (2006)
Shimura Trouble (2008)
The Kizuna Coast (December 2014)
Daughters of Bengal:
The Sleeping Dictionary
The Perveen Mistry Investigations
The Widows of Malabar Hill (2018) (historical mystery)
Review:
The Pearl Diver* by Sujata Massey

Rei Shimura has been banned from Japan and is now living in Washington D.C. with her boyfriend Hugh. When her cousin is kidnapped, Rei leaps into action to find her. One thing leads to another and soon she's also trying to find a Japanese woman who disappeared many years earlier. Are the two cases linked?
Although the novel is no longer set in Japan like the first novel, I still like how Massey works in details of Japanese culture, especially Japanese antiques, food (bento boxes), and pearl diving. The new setting is also concrete and detailed. Massey has a fine touch with setting.
The plot is rich, with many well-developed characters. The front matter includes a "Cast of Characters" list with snippets about a dozen of the more prominent characters. Character lists are always handy references, but aren't necessary to enjoy this book. Unlike some other novels, the author does a good job of introducing new people so that it is easy to remember who they are.
Compared to her debut novel, which had a few bumps, this one is well done. I particularly liked the ending, which I won't reveal.
I want to read more of the novels in this series.
###
Sujata Massey Author Post
Because I have been reading a lot of mysteries, I've been trying to come up with a better system to keep track of what I've read. I thought the blog would help, which it does, but I don't always review everything I've read. To get more organized I'm going to try to create an author post for each author with lists of novels. I will update later by linking to newer reviews and marking books as read .