Today we are featuring  The Whispering Room: A Jane Hawk Novel by Dean Koontz for Book Beginnings on Fridays.
Book Beginnings is a fun meme hosted by Rose City Reader blog. To participate, share the first sentence or so of a novel you are reading and your thoughts about it. When you are finished, add your URL to the Book Beginnings page linked above. Hope to see you there!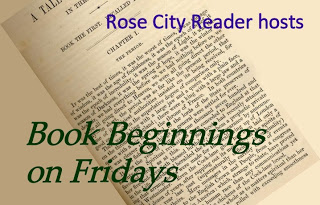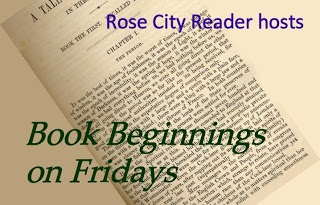 (Amazon Affiliate Link)
Even though Dean Koontz is a super popular author, I haven't read anything of his before. When I saw a review for his most recent publication, The Whispering Room: A Jane Hawk Novel, I had to pick up a copy.
Blurb:  Jane Hawk is an FBI agent who has uncovered evidence of an evil organization which is brainwashing innocent people and forcing them to carry out crimes. Things go wrong when she tries to expose their plot and she becomes a fugitive from the law.
First Sentence:
Cora Gunderson walked through seething fire without being burned, nor did her white dress burst into flames.
Discussion:
Does this sentence seem a bit awkward? I think it jolts because I'm expecting a parallel sentence structure, like:  "She walked through the seething fire without being burned and without her white dress bursting into flames." I wonder why he doesn't use the same verb form throughout?
The image is still compelling to me. I want to know how this is possible and what is going to happen.
What do you think?
Are you a Dean Koontz fan?