Today we have one of the novels from The Bestseller Code 100 list, Twelve Sharp by Janet Evanovich for Book Beginnings on Fridays.
Book Beginnings is a fun meme hosted by Rose City Reader blog. To participate, share the first sentence or so of a novel you are reading and your thoughts about it. When you are finished, add your URL to the Book Beginnings page linked above. Hope to see you there!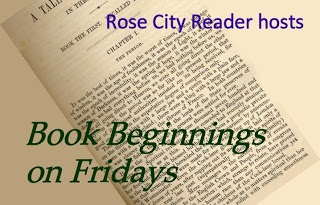 Twelve Sharp*by Janet Evanovich
(*Amazon Affiliate link)
Twelve Sharp is number twelve in the long-running Stephanie Plum series. Each new novel features the series number in the title, starting with One for the Money.  Twisted Twenty-Six is the most recent.
Summary:  Bounty hunter Stephanie Plum spends her days trying to outwit criminals who have skipped bail plus figuring out what she should do about the two guys she's attracted to, police detective Joe Morelli and the mysterious Ranger. When a crazy woman shows up and says she is Ranger's wife, it should make her decision easier, but soon it is evident things just got way more complicated.
First Sentences:
When I was twelve years old I accidentally substituted salt for sugar in a cake recipe. I baked a cake, iced the cake, and served it up. It looked like a cake, but as soon as you cut into it and took a taste, you knew something was going on. People are like that, too.
Discussion:
Okay, the writer-geek in me adores that Evanovich worked the word "twelve "into her first sentence. Isn't that clever?
Previously I have read maybe the first five of this series, so when Twelve Sharp showed up on The Bestseller Code list of 100 best books (picked by a computer algorithm) I knew I wanted to read it.
Wow. I had forgotten who much I loved Evanovich's snarky humor and her awesome use of the "will they or won't they?" trope. I'm such a sucker for that.
In case you were wondering, Twelve Sharp works well as a stand alone because she takes time to introduce everything and everyone you need to know to enjoy it.
Have you read any of the Stephanie Plum novels by Janet Evanovich?