Are you ready to discuss Shutter Island, the 100th novel listed in The Bestseller Code (review) by Jodie Archer and Matthew L. Jockers ?
This post does not contain spoilers.  (Note:  Out of consideration to those who possibly haven't read the book yet, please indicate right up front if your comment or review contains spoilers.)
Shutter Island: A Novel by Dennis Lehane
Summary:
The year is 1954. U.S. Marshal Teddy Daniels and his new partner Chuck Aule travel to the Ashecliffe Hospital for the Criminally Insane on Shutter Island to find out what has happened to a woman who has mysteriously disappeared. As the investigation deepens, Daniels uncovers more questions than answers.
What do you think of this novel?
Join the discussion:
We've provided a number of ways for you to join in the discussion.
Add a comment to this post
Take our survey
Link your review (in the link form below)
Join us on social media
Update of recent posts discussing Shutter Island:
Survey:
[yop_poll id="1″]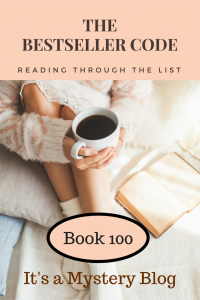 If you have reviewed Shutter Island, please feel free to add a link to your review here.

You can also join us on social media:
As this is the first of the series, please excuse any bugs or glitches. Let us know if you have any problems or questions.
Do you have suggestions for ways to improve this reading challenge? We'd love to hear them.
__________________
What are we reading next?
If you ever have questions about what we are reading next or when we're starting the next discussion, check the 100 Book List tab in the navigation bar at the top of the blog.
The next book is number 99 on the list, State of Wonder by Ann Patchett (2011) – Discussion begins November 21, 2016.