Time to start the discussion of our next novel from The Bestseller Code 100 list, The Last Child by John Hart. This heart-wrenching thriller won the Edgar Award for Best Novel in 2010.
Note:  Post does not contain spoilers.
The Last Child* by John Hart
Summary:  Johnny Merrimon's twin sister disappeared a year ago when she was seen being dragged into a van. Now everyone seems to think she's dead. Thirteen-year-old Johnny can't give up on her, though, so he decides to start a search of his own. Will he be able to figure out what happened to her without becoming a victim himself?
Publisher: Minotaur Books (March 9, 2010)
ISBN-10: 0312642369
ISBN-13: 978-0312642365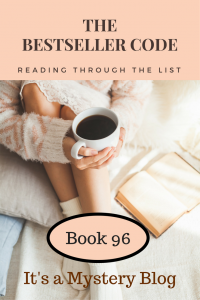 Did you read John Hart's  The Last Child? We'd love to hear your thoughts!
Related posts:
You can also join us on social media:
Do you have suggestions for ways to improve this reading challenge? We'd love to hear them.
Have you written about The Last Child? Feel free to add a link to your review or discussion here.

__________________
What are we reading next?
If you ever have questions about what we are reading next or when we're starting the next discussion, check the 100 Book List tab in the navigation bar at the top of the blog.
The next book is number 95. The Mill River Recluse by Darcie Chan (2011) – Discussion begins January 16, 2017