Time to start the discussion of our next novel from The Bestseller Code 100 list, Olive Kitteridge by Elizabeth Strout. This title won a Pulitzer Prize for fiction, and was the basis of an award-winning HBO mini-series.
This post does not contain spoilers.
Olive Kitteridge* by Elizabeth Strout
Book Blurb:  Olive Kitteridge lives in the small town of Crosby, Maine, where she touches the lives of those around her and is also changed by their presence.
To give you an idea what the book entails,  check out this trailer from the HBO miniseries.
Have you read Olive Kitteridge? We'd love to hear your thoughts!
Related posts:
Have you written about Olive Kitteridge? Feel free to add a link to your review here.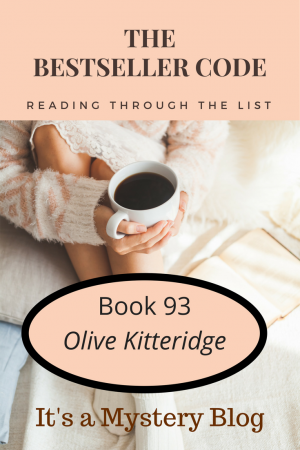 Join us on social media:
Do you have suggestions for ways to improve this reading challenge? We'd love to hear them.
__________________
What are we reading next?
If you ever have questions about what we are reading next or when we're starting the next discussion, check the 100 Book List tab in the navigation bar at the top of the blog.
The next book is 92. One Day by David Nicholls (2009) – Discussion begins February 27, 2017