Time to start the discussion of our next novel from The Bestseller Code 100 list,  Unaccustomed Earth by Jhumpa Lahiri.
This post does not contain spoilers.
Unaccustomed Earth* by Jhumpa Lahiri
What the book is about:
In this collection of eight short stories the author explores how the lives of people are changed as they migrate from place to place, specifically from South Asia to America. She asks the question whether — as a quote from Nathaniel Hawthorne suggests — people thrive when they "strike their roots into unaccustomed earth" instead of being "planted and replanted, for too long a series of generations, in the same worn-out soil."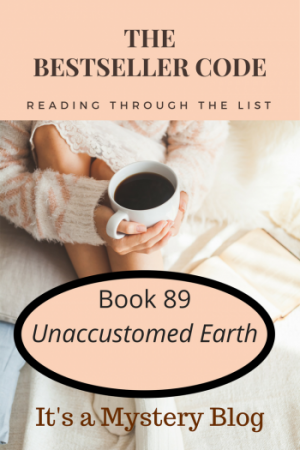 Have you read Unaccustomed Earth by Jhumpa Lahiri? We'd love to hear your thoughts.
Related posts:
You can also join us on social media:
Do you have suggestions for ways to improve this reading challenge? We'd love to hear them.
Have you written about Unaccustomed Earth by Jhumpa Lahiri? Feel free to add a link to your review here.

__________________
What are we reading next?
If you ever have questions about what we are reading next or when we're starting the next discussion, check the 100 Book List tab in the navigation bar at the top of the blog.
The next book is number 88. The Weird Sisters by Eleanor Brown (2011) – Discussion begins April 24, 2017