Time to start the discussion of our next novel from The Bestseller Code 100 list, Easy Prey by John Sandford.

This post does not contain spoilers.
Easy Prey* by John Sandford
This is the 11th mystery in the "Prey" series, featuring police detective Lucas Davenport.
Summary:  When a supermodel is killed during a party, there's a media frenzy surrounding the case. Things get even worse when another person is killed and one of Davenport's own men becomes the main suspect.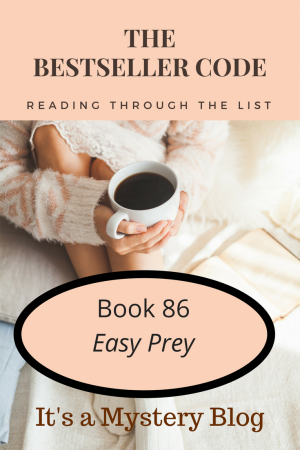 Have you read Easy Prey by John Sandford? We'd love to hear your thoughts.
Related posts (links will be added as posts go live):
Book-beginnings, a discussion of the first line of the novel
Karen's review from a reader's perspective
Roberta's review from a writer's perspective
Join us on social media:
Do you have suggestions for ways to improve this reading challenge? We'd love to hear them.
Have you written about Easy Prey by John Sandford? Feel free to add a link to your review here.

__________________
What are we reading next?
If you ever have questions about what we are reading next or when we're starting the next discussion, check the 100 Book List tab in the navigation bar at the top of the blog.
The next book is number 85. The Klone and I by Danielle Steel (1998) – Discussion begins June 12, 2017.
Touted as a high-tech love story.