Let's take a look at our latest book from The Bestseller Code Challenge,  The Marriage Bargain by Jennifer Probst, from a writer's perspective. (The discussion began here).
This post contains spoilers.
The Marriage Bargain by Jennifer Probst
Summary:  Alexa Maria McKenzie needs money badly. Billionaire Nicholas Ryan has to have a wife right away. She is his sister's childhood friend, so getting married as a business arrangement seems the best solution.
Characters
The Marriage Bargain has the smallest cast of characters of any of the books we've read so far. The main character is Alexa Maria McKenzie, a young woman who owns and runs a bookstore. She wants to help her parents keep their home by giving them money, but she doesn't have any to spare.
The male lead is Nicholas (Nick) Ryan, whose uncle left him a business with the caveat that he get married right away or he won't inherit. He is willing to marry someone as part of a business arrangement, with the idea that the wife will get a certain amount of money and the marriage will dissolve in a year.  He has a girlfriend, Gabriella, but for some reason he'd rather marry Alexa, who he hasn't seen in years. Gabriella's main role seems to be to make Alexa jealous.
Nick's sister, Maggie Ryan, has been Alexa's best friend since childhood. Michael Conte is a businessman whose main role is to make Nick jealous. Add in her parents and his father, Jed, and that's about it.
The story is narrated alternately by Alexa and Nick in tight third person point of view.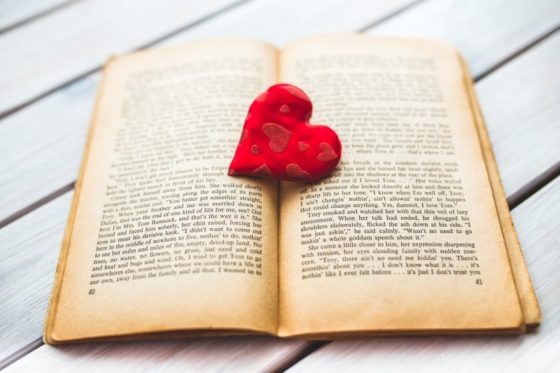 Public domain photo found on TrendHype
Setting
This novel could have been set anywhere, but the author describes it as "a trendy upstate New York college town."
Discussion
Romances tend to follow certain formulas, and this one has tropes* galore. The irreverent TVTropes website Romance Novel Tropes page has an extensive list of the different types, and some of the obvious ones in this book are Marriage of Convenience, First Love,  Will They or Won't They, and of course, Happily Ever After. As a writer, I did love how Probst prolonged the "unresolved sexual tension" by having the police show up in one scene. I'm working on a mystery novel where I'm stewing my brains to come up with believable scenarios to keep two characters from becoming involved. I have to admit I didn't think of having the police arrive at a crucial moment.
Regardless of the tropes, the voice in The Marriage Bargain is fresh and enjoyable. The novel is an easy read, and I was able to finish in essentially one sitting.  I like that it doesn't take itself too seriously and the main character isn't prone to angst. She takes her knocks, gets up, and keeps going.
For Readers:  The Marriage Bargain is the first in a series. If you are a fan of romance novels, particularly romance with a bit of heat, then you might want to give them a try.
For Writers:  Jennifer Probst also has nonfiction book, Write Naked: A Bestseller's Secrets to Writing Romance & Navigating the Path to Success. And if you have a minute,  she has a funny story about her writing muse on her blog. Writers will totally relate to her experience.
(*A trope is a writing device or construct that readers readily recognize. You can think of tropes as shorthand storytelling devices, but they also might qualify as clichés. )
Have you read The Marriage Bargain by Jennifer Probst? We'd love to hear your thoughts.
Join us on social media:
__________________
What are we reading next?
If you ever have questions about what we are reading next or when we're starting the next discussion, check the 100 Book List tab in the navigation bar at the top of the blog. Links in the list go to the landing page from this blog where the discussion starts. However, this is an open-ended challenge so feel free to jump in with any of the books at any time.
The next book is number 71. The Bourne Betrayal by Eric Van Lustbader (2007) –  Discussion begins December 11, 2017
Thriller