Today I have an old favorite, The Unexpected Mrs. Pollifax by Dorothy Gilman for Book Beginnings on Fridays.
Book Beginnings is a fun meme hosted by Rose City Reader blog. To participate, share the first sentence or so of a novel you are reading and your thoughts about it. When you are finished, add your URL to the Book Beginnings page linked above. Hope to see you there!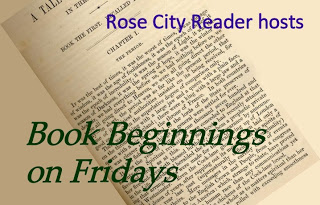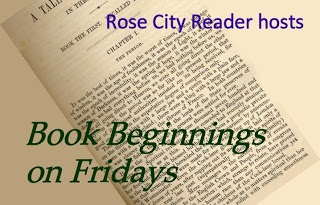 The Unexpected Mrs. Pollifax*by Dorothy Gilman
(*Amazon Affiliate link)
Summary:  Mrs. Virgil (Emily) Pollifax of New Brunswick, New Jersey, is a widow with grown children and an unremarkable life. She is tired of attending her Garden Club meetings and frankly, is more than a little depressed. She wants to do something good for her country, so she becomes a CIA agent.
This is first in an enjoyable series.
First Sentence of The Unexpected Mrs. Pollifax:
The nurse walked out of the room, closing the door behind her, and Mrs. Pollifax looked at the doctor and he looked at her. He was a very nice young man, with black hair, very white teeth and horn-rimmed glasses that he removed now, placing the stem of the earpiece between his teeth. "Well, Mrs. Pollifax," he said pleasantly, "I don't know how you manage it, but for a woman of your age, you're in fantastically good health. I congratulate you."
Discussion:
What I love about this beginning — and it is perfect because it gives a taste of what is to come in the rest of the novel — is the surprising twist, the defying of expectations. The reader starts out expecting that the doctor is going to give Mrs. Pollifax bad news about her health, but he doesn't. She is perfectly healthy.  In the next bit there's another twist when we find out Mrs. Pollifax is actually disappointed her health is good. Dorothy Gilman is a master of setting up expectations and then breaking them in fun and interesting ways.
What do you think? Would you continue? Have you read any of the Mrs. Pollifax mysteries?