Thanks to Margaret at BooksPlease, I just found about an intriguing reading challenge called Calendar of Crime 2020  hosted by Bev at My Reader's Block.  This year's Calendar of Crime runs from January 1, 2020 to December 31, 2020.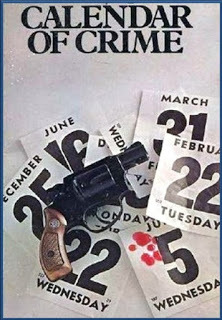 How to participate:
Check out the calendar of categories on the sign-up page, choose a mystery novel that fits one of the categories listed (each month has 9 different choices), read it, post a review and then link to that month's  post.  You can choose any book under the "mystery" genre (from spy thriller to true crime to cozy) and there are no restrictions on publication date.
For example, one of the choices for January is to find a mystery with January in the title.  Let's see what comes up in a search:
1. Jane Doe January: My Twenty-Year Search for Truth and Justice by Emily Winslow is a true crime memoir by the victim of a serial rapist.
2.  The Door to January by Gillian French was a 2018 Bram Stoker Award Nominee for Superior Achievement in a Young Adult Novel. Looks like it is a paranormal thriller?
I think I might keep looking for my choice this month, but you get the idea.
If you pick one category per month, you will read 12 new mysteries by the end of the year. Or you can pick two or three categories each month. Margaret read 42 novels for this challenge last year!
Hope you decide to join us! It should be fun.