Let's take a look at The Lucky One by Lori Rader-Day for Book Beginnings on Fridays.
Book Beginnings is a fun meme hosted by Rose City Reader blog. To participate, share the first sentence or so of a novel you are reading and your thoughts about it. When you are finished, add your URL to the Book Beginnings page linked above. Hope to see you there!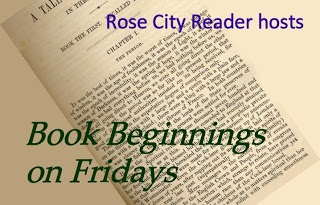 The Lucky One by Lori Rader-Day
(*Amazon Affiliate link)
Summary:  Alice Fine works in a construction office with her dad by day and volunteers with an online group that matches unidentified bodies ("Does") with missing persons at night. Unlike many of the other members of the group — who started because they have missing relatives — Alice was drawn to the work because she herself was a missing person when she was very young. She was rescued in less than a day, but her kidnapper was never caught. When Alice recognizes a man from a photograph on the missing persons website, she soon realizes he is the one who kidnapped her so long ago. With the help of other volunteers, Alice delves into the mystery of who he was and why he took her.
First Sentence:
Audrey89:  RE: RE: RE:…This thread is getting long and tedious already and you jerks are starting to repeat yourselves.
Discussion:
Oh yes, I've been on forums that were like that.
This section isn't labelled as prologue, but it begins in front of Chapter One. Throughout the text, the author sprinkles in online discussions, emails, etc. between regular-length chapters.
The idea that a victim can investigate the crime really works.  It is done in a believable way. The online group is based on an actual organization.
56
The Friday 56 is hosted by Freda's Voice. The premise is simple. Turn to page 56 in the book and pick a quote.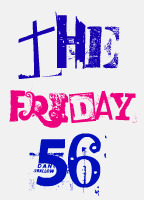 When Merrily jolted awake from strange dreams, her mouth still tasted weird.
Technically this is from page 57, because page 56 was an email.
Hum, wonder what Merrily was up to before she fell asleep.
What do you think? Would you keep reading?