Let's look at Extremely Loud and Incredibly Close by Jonathan Safran Foer from a reader's perspective.
For a summary of Extremely Loud, please check out its introductory post.
This post contains spoilers.
Extremely Loud & Incredibly Close by Jonathan Safran Foer
(*Amazon Affiliate link)
In 2016 I heard a radio interview of Jonathan Safran Foer, who was promoting his newly released book, Here I Am. The interview was interesting enough that I added Here I Am to my "must read" list.  This past December I noticed the book on the "new releases" shelf at my local library, so I brought it home, only to discover that it was written by the same author as our next book, Extremely Loud and Incredibly Close.  How serendipitous, I thought.  Not wanting to confuse myself by reading two books by the same author at the same time, I set aside Here I Am to read later and began reading our book selection.
I really wanted to love this book.  I liked the main character, Oskar.  I enjoyed his story line, his search for his lost father in New York City, even though I didn't find it very believable that Oskar's mother would allow him to roam NYC on his own.  After all, he is only nine.  But, for the sake of the story, I was willing to suspend that disbelief and keep reading.  As Roberta revealed in her Writer's Review, it turns out that Oskar's mom does know what he is doing and has surreptitiously arranged it so that Oskar is safe the whole time.  Both Oskar and the reader have been played.
Visual Cleverness
Roberta also mentioned the "clever" ways that Foer plays with the text and design throughout the book.  Oskar's sections have their own idiosyncrasies, but the chapters that tell the stories of his grandmother and grandfather really go over the top, to the point where I found them almost unintelligible.  I'm sure the author had some lofty goals, some way these visual cues would lead us to a deeper understanding of the story, but they were completely lost on me.  I came away with only a vague understanding of his grandparent's and their relationship, and mostly felt frustrated and cheated.
As an example, here's a section from one of Oskar's grandfather's chapters (Why I'm Not Where You Are 5/21/63):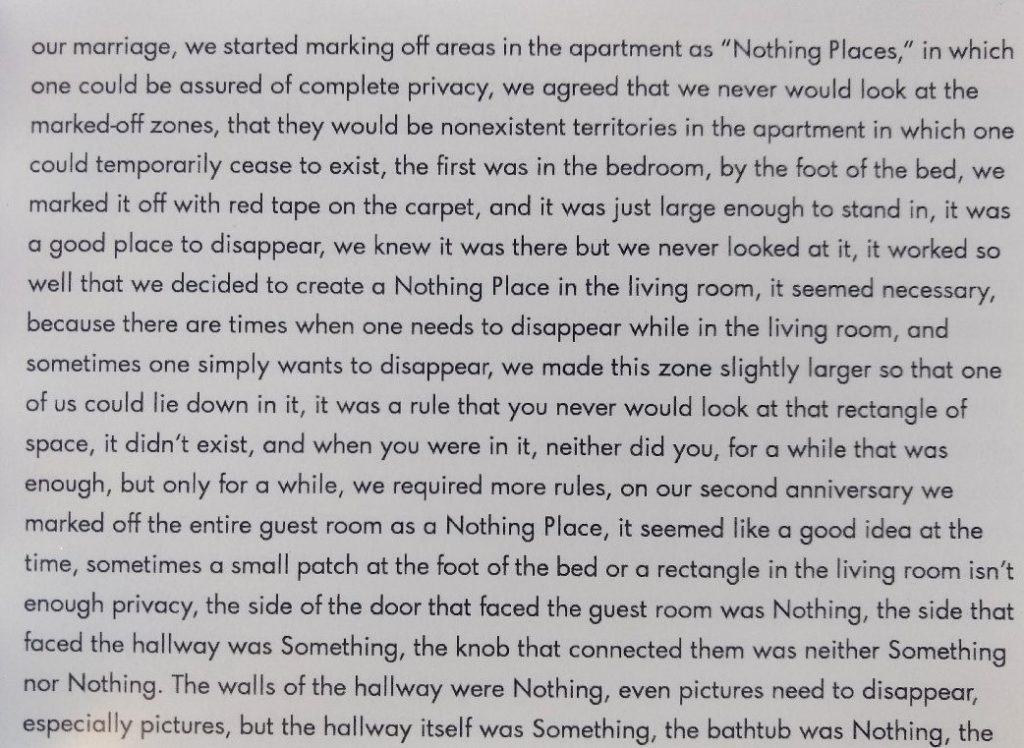 The entire chapter runs on this way, with no paragraph breaks and very few periods to mark the end of sentences.  I cringed every time I had to read the grandfather sections.
When I first finished reading Extremely Loud last week, I came away with a feeling of actually liking the book.  I felt it was the first Literary Fiction novel we've read in this challenge where I liked the story line, liked the characters, liked the outcome.  Now, a week later, I realize that that was all an illusion.  The story quickly faded in my mind and left me with more questions than answers.
I have not seen the movie that was made from Extremely Loud and Incredibly Close. I have to wonder how the producers and screenwriters handled all these text and design "innovations" on the big screen.  Would I perhaps understand the story better by seeing the movie?
The Importance of Genre
Unfortunately, now I likely will not read Here I Am.  If Extremely Loud is indicative of this author's writing style, I don't need to waste more of my precious reading time.  And once again, I'm reminded of the importance of genre.  A bestseller list encompasses so many genres that one individual is never going to like every book on that list, no matter how popular it was to other readers.  Hopefully somewhere in this Reading Challenge I'll find a Literary Fiction novel that I really and truly enjoy.
Have you read Extremely Loud and Incredibly Close by Jonathan Safran Foer? We'd love to hear your thoughts.
Related posts:
Book-beginnings, a discussion of the first line of the novel
Karen's review from a reader's perspective
Roberta's review from a writer's perspective
You can also join us on social media:
__________________
What are we reading next?
If you ever have questions about what we are reading next or when we're starting the next discussion, check the 100 Book List tab in the navigation bar at the top of the blog. Links in the list go to the landing page from this blog where the discussion starts. However, this is an open-ended challenge so feel free to jump in with any of the books at any time.
The next book is number 51. The Art of Fielding by Chad Harbach (2011) – Discussion begins December 31, 2018
Literary Fiction