Ian Rankin was born in Scotland and lives in Edinburgh.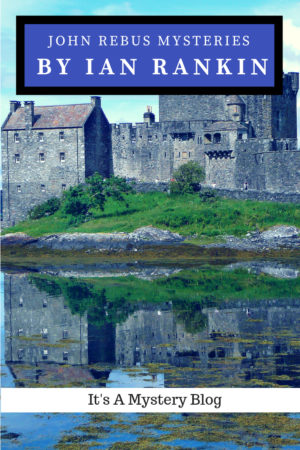 Ian Rankin Novels:
John Rebus series
Ian Rankin was 25 years old when he wrote  Knots and Crosses. He did a magnificent job creating the older, grizzled character in John Rebus. The novels are riveting mysteries that are well-paced, with a nicely-detailed setting and have a believable plot. Rebus doesn't solve everything alone, but is part of a team. Each novel involves some sort of puzzle as well.
I can't wait to read more of the twenty-some novels featuring Inspector John Rebus.
1. Knots and Crosses (1987) –review
2. Hide and Seek (1991)
3. Tooth and Nail (original title Wolfman) (1992)
4. Strip Jack (1992)
5. The Black Book (1993)
6. Mortal Causes (1994)
7. Let It Bleed (1996)
8. Black and Blue (1997)
9. The Hanging Garden (1998)
10. Dead Souls (1999)
11. Set in Darkness (2000)
12. The Falls (2001) – review
13. Resurrection Men (2002)
14. A Question of Blood (2003)
15. Fleshmarket Close (published in the US as Fleshmarket Alley) (2004)
16. The Naming of the Dead (2006)
17. Exit Music (2007)
18. Standing in Another Man's Grave (2012)
19. Saints of the Shadow Bible (2013) – also features Malcom Fox (see below)
20. The Beat Goes On: The Complete Short Stories (2014)
21. Even Dogs in the Wild (2015)
22. Rather Be the Devil (2016)
There's also a British TV series based on the Rebus books.
Malcom Fox series
Malcom Fox is one of the "Complaints" or cops who investigate other cops.
The Complaints (2009) –shelf – Fox's investigations don't make him popular and when his own actions are called to question, he isn't sure who he can trust to help. 

The Impossible Dead
Standing in Another Man's Grave
Saints of the Shadow Bible
Even Dogs in the Wild
Rather Be the Devil (with Rebus)
###
About Author Posts:
Because I read a lot of mysteries, I've been trying to come up with a better system to keep track of which novels I've finished. I thought blogging would help, which it does, but I don't always review everything I read. To get more organized, I've decided to create a series of author posts with lists of novels and links to my reviews. I plan to edit these pages as needed.