Local Arizona author Shelley Coriell started out working as a journalist and restaurant critic. Now she writes mysteries, romantic suspense, and young adult novels.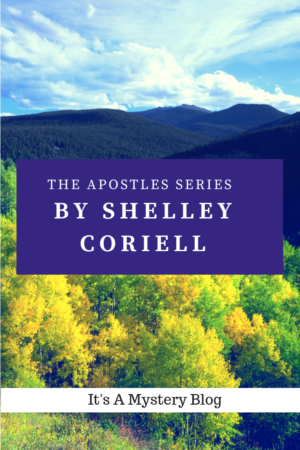 The Apostles romantic suspense series 
I've met Shelley several times at local events. At one workshop she told a heartbreaking story about how The Apostles series came about. She was at the hospital where her father was recovering from a stroke and a bad accident with an ATV. Shelley's sister was taking care of his health issues and her brother was taking care of the financial issues, so Shelley felt at a lost about what to do. She decided to provide a distraction by getting her father to help her flesh out a story idea she had. The three books below are the result of that hospital stay.
The Apostles are a special group of handpicked FBI agents who work for a reclusive FBI legend named Parker Lord.
I really like this series. The books are a bit darker than typical romantic suspense and probably are closer to thrillers. (Links are to my reviews)
Mystery Short Story Collections featuring Detective Lottie King
Coriell introduced Detective Lottie King as a minor character in the first book of The Apostles series, The Broken. Lottie was so popular that Shelley decided to write more about her. By the way, Shelley is a bit of a foodie and she includes some Lottie-inspired recipes.

###
About Author Posts:
Because I read a lot of mysteries, I've been trying to come up with a better system to keep track of which novels I've finished. I thought blogging would help, which it does, but I don't always review everything I read. To get more organized, I've decided to create a series of author posts with lists of novels and links to my reviews. I plan to edit these pages as needed.