It's time to start the next book in The Bestseller Code 100 challenge, A Spool of Blue Thread by Anne Tyler for Book Beginnings on Fridays.
Book Beginnings is a fun meme hosted by Rose City Reader blog. To participate, share the first sentence or so of a novel you are reading and your thoughts about it. When you are finished, add your URL to the Book Beginnings page linked above. Hope to see you there!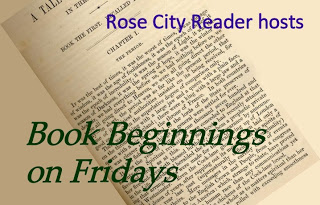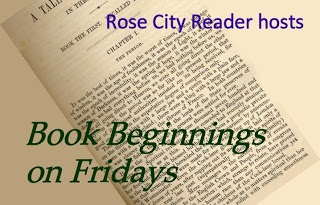 A Spool of Blue Thread by Anne Tyler
Summary:  Anne Tyler's novel follows the lives of a Baltimore family, Red and Abby Whitshank, and their four children.
It is literary fiction and was shortlisted for the Man Booker Prize in 2015.
First Sentence:
Late one July evening in 1994, Red and Abby Whitshank had a phone call from their son Denny.
Discussion:
Someone recently told me that a novel should reveal who, what, when and where early in the first scene. Anne Tyler introduces who and when in the first sentence.
What do you think? Would you read a book that didn't introduce everything right away? Do you think different genres might have different rules, such as mysteries giving less away than historical fiction? Do you know any examples where the author waited past the first scene to reveal setting, time, or a main character? Did it work for you?

Does this first line entice you to keep reading?