Time to start the discussion of our next novel from The Bestseller Code 100 list, A Spool of Blue Thread by Anne Tyler.
This post does not contain spoilers.
A Spool of Blue Thread by Anne Tyler
Summary:  This novel follows the lives of Baltimore residents Red and Abby Whitshank and their four children.
It is literary fiction and was shortlisted for the Man Booker Prize in 2015.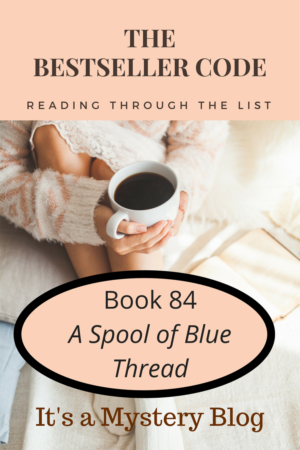 Have you read A Spool of Blue Thread by Anne Tyler?
We'd love to hear your thoughts.
Related posts:
Book-beginnings, a discussion of the first line of the novel
Karen's review from a reader's perspective
Roberta's review from a writer's perspective
You can also join us on social media:
Do you have suggestions for ways to improve this reading challenge? We'd love to hear them.
Have you written about A Spool of Blue Thread by Anne Tyler? Feel free to add a link to your review here.
__________________
What are we reading next?
If you ever have questions about what we are reading next or when we're starting the next discussion, check the 100 Book List tab in the navigation bar at the top of the blog. Links in the list go to the landing page from this blog where the discussion starts. However, this is an open-ended challenge so feel free to jump in with any of the books at any time after the discussion begins.
The next book is number 83. Hotel on the Corner of Bitter and Sweet by Jamie Ford (2009) – Discussion begins July 10, 2017.