It is time to start the discussion of our next novel from The Bestseller Code 100 list, The White Tiger by Aravind Adiga.
This post does not contain spoilers.
The White Tiger by Aravind Adiga
Summary: An example of an epistolary novel, main character Balram Halwai writes about his rags to riches story as he leaves behind his impoverished Indian village to establish his own taxi business.
Although Aravind Adiga was only 33 when he published this debut novel, it won the Man Booker Prize in 2008.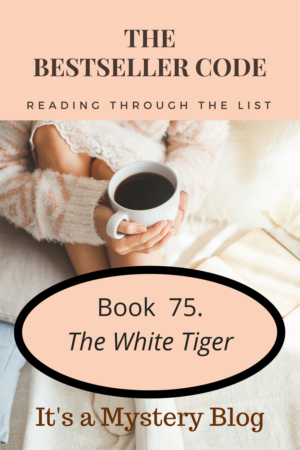 Have you read The White Tiger by Aravind Adiga? We'd love to hear your thoughts.
Related posts:
Book-beginnings, a discussion of the first line of the novel
Karen's review from a reader's perspective
Roberta's review from a writer's perspective
You can also join us on social media:
Do you have suggestions for ways to improve this reading challenge? We'd love to hear them.
Have you written about The White Tiger by Aravind Adiga? Feel free to add a link to your review here.
__________________
What are we reading next?
If you ever have questions about what we are reading next or when we're starting the next discussion, check the 100 Book List tab in the navigation bar at the top of the blog. Links in the list go to the landing page from this blog where the discussion starts. However, this is an open-ended challenge so feel free to jump in with any of the books at any time.
The next book is number 74. A Day Late and a Dollar Short by Terry McMillan (2000)- Discussion begins October 30, 2017