Time to start the discussion of our next novel from The Bestseller Code 100 list, The Bourne Betrayal by Eric Van Lustbader.
This post does not contain spoilers.
The Bourne Betrayal* by Eric Van Lustbader
Jason Bourne is a spy who has lost his memory. Now he fights to stay alive while he figures out his real identity and pieces together his past.
Robert Ludlum wrote the first three novels in the Jason Bourne series:
The Bourne Identity (1980)
The Bourne Supremacy (1986)
The Bourne Ultimatum (1990)
After Ludlum passed away, Eric Van Lustbader continued the series, starting with The Bourne Legacy (2004). The Bourne Betrayal is the second novel written by Van Lustbader.  The novels have also been made into a popular movie series starring Matt Damon.
Summary:  In this novel Jason Bourne goes to rescue his friend, a CIA deputy director, who has been kidnapped. The chase takes him to Africa where he discovers he might be a pawn in a plot to destroy America.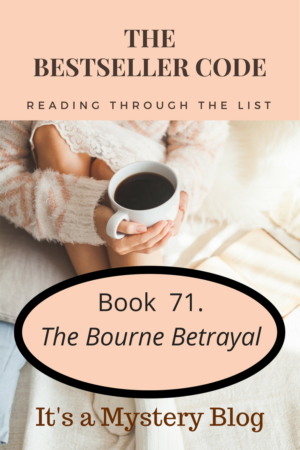 Have you read The Bourne Betrayal by Eric Van Lustbader? We'd love to hear your thoughts.
Related posts:
Book-beginnings, a discussion of the first line of the novel
Karen's review from a reader's perspective
Roberta's review from a writer's perspective
You can also join us on social media:
Do you have suggestions for ways to improve this reading challenge? We'd love to hear them.
Have you written about The Bourne Betrayal by Eric Van Lustbader? Feel free to add a link to your review in the comments.
__________________
What are we reading next?
If you ever have questions about what we are reading next or when we're starting the next discussion, check the 100 Book List tab in the navigation bar at the top of the blog. Links in the list go to the landing page from this blog where the discussion starts. However, this is an open-ended challenge so feel free to jump in with any of the books at any time.
The next book is number 70. The Brief Wondrous Life of Oscar Wao by Junot Díaz (2007) – Discussion begins December 26, 2017. It won the Pulitzer Prize in 2008.