Time to start the discussion of our next novel from The Bestseller Code 100 list, The Goldfinch by Donna Tartt.
This post does not contain spoilers.
The Goldfinch* by Donna Tartt
(*Amazon Affiliate link)
The blurb: Thirteen-year-old Theo Decker survives the accident that kills his mother. Because his father left him, the family of a friend takes Theo in. Struggling with his grief and the changes that have occurred, the teenager clings to a small painting that reminds him of his mother. But there's more to the painting than anyone suspects.
The Goldfinch took Donna Tartt a decade to write. It won the Pulitzer Prize in 2013.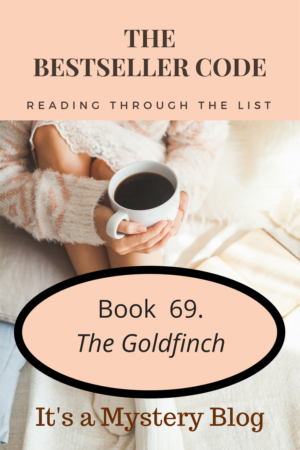 Have you read The Goldfinch by Donna Tartt? We'd love to hear your thoughts.
Related posts:
You can also join us on social media:
Do you have suggestions for ways to improve this reading challenge? We'd love to hear them.
Have you written about The Goldfinch by Donna Tartt? Feel free to add a link to your review in the comments.
__________________
What are we reading next?
If you ever have questions about what we are reading next or when we're starting the next discussion, check the 100 Book List tab in the navigation bar at the top of the blog. Links in the list go to the landing page from this blog where the discussion starts. However, this is an open-ended challenge so feel free to jump in with any of the books at any time.
The next book is number 68. Cross Roads by Wm. Paul Young (2012) – Discussion begins January 22, 2018
Christian fiction