Let's take a look at American Wife by Curtis Sittenfeld from a writer's perspective.
This post may contain spoilers.
American Wife by Curtis Sittenfeld
(*Amazon Affiliate link)
Summary: When quiet school librarian Alice Lindgren meets Charlie Blackwell, the charismatic son of a powerful Republican family, she doesn't think they have much in common. That doesn't prevent her, however, from falling in love and marrying him. Before she knows it, he's governor of their state and then president. As first lady, she must decide how to cope with the challenge of loving her husband, but disagreeing with many of his beliefs and actions.
According to a preface in the book,
"American Wife is a work of fiction loosely inspired by the life of an American first lady. Her husband, his parents, and certain prominent members of his administration are recognizable.
Although not identified by name, the author admits her main character is modeled after Former First Lady Laura Bush.
The Cover
I don't usually comment on the cover, but this one is striking. It shows a woman wearing a beautiful full length wedding dress. Laura Bush didn't wear anything like it when she got married, however, and it also isn't what Sittenfeld writes that ever practical Alice wore. Pretty dress, but doesn't truly reflect the story inside.
The Writing
Because my perspective as a writer, I tend to dissect books as I read them and it takes me out of the story. For example, for our last book I noticed right away that E. L. James described her main character looking in a mirror, which is not considered to be best writing practice. For American Wife, however, the writing disappeared into the background and I became fully engrossed. It is high praise when the reader doesn't notice the writing and it becomes simply a vessel for the storytelling.
The few times I did notice the writing was when the word choice — slang in dialogue — seemed too modern for the earlier time. But that was only a word or two.
How did Curtis Sittenfeld achieve such seamless writing? First of all, by choosing the first person voice.  The first person draws the reader in by allowing full access to the main character's thoughts and feelings. It worked well.
Sittenfeld also has a gift for storytelling. She frames the work with a scene in the White House where Alice reflects our her life with her husband, the president. From there, she crafts the story in chronological order as events in Alice's life unfold. Although it has been labeled as a bildungsroman (coming of age story or about growing from youth to adult), it is the inherent conflict between a serious, quiet wife and a jovial, extroverted husband is central to moving the plot forward.
Some people were shocked that the author included explicit sex scenes, as well as a less-than-flattering bathroom scene. At first it did seem out of character when portraying someone who exhibits such decorum in public. But, the author's goal was to make Alice seem realistic — like a living, breathing woman– and real women do have sex and have embarrassing moments in bathrooms.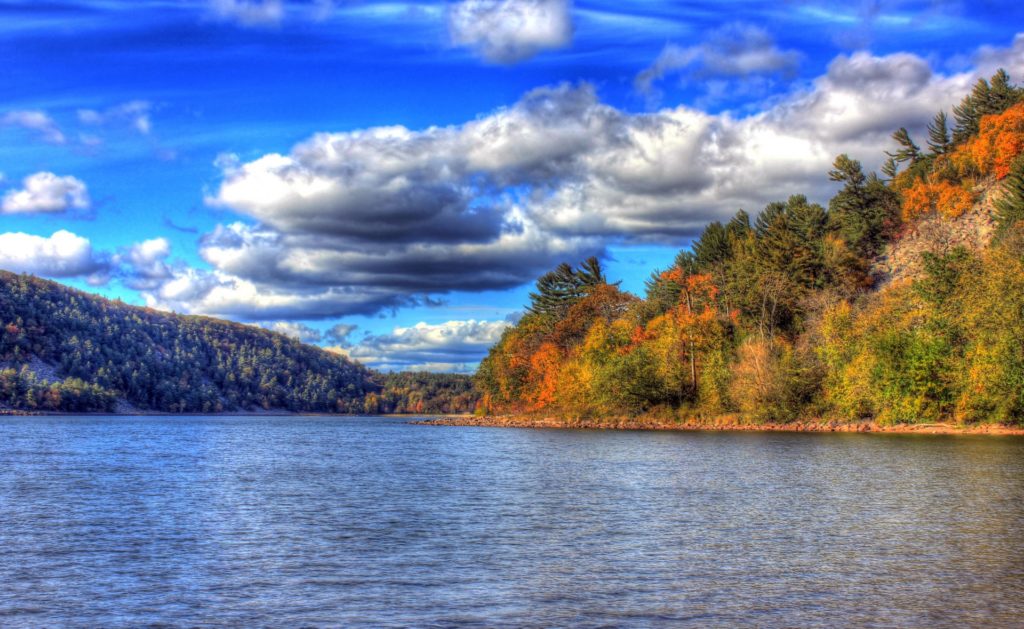 Public domain image of Wisconsin
Setting
Although Sittenfeld uses many details from Laura Bush's life in American Wife, she chose to deviate with the setting. Instead of living in Texas, the whole fictional clan is from Wisconsin. Why did she choose Wisconsin? The author grew up in Ohio and was living in St. Louis at about the time she wrote this, so we shouldn't be surprised she picked a state in the Midwest.
Discussion
One of the problems with fictionalizing a real person is that readers will wonder where the nonfiction ends and the fiction begins. For example, it is true that Laura Bush was involved in a car crash that killed a classmate when she was seventeen. Some of the details were fictionalized, however, such as having Alice drive alone whereas Laura had a passenger in the car.   She also changed some prominent, verifiable details, like Charlie Blackwell's father never becomes president like George Bush did. It was distracting at times to have to stop reading and do an internet search to verify or disprove story details, but I did learn quite a bit.
Sittenfeld isn't the first author to fictionalize people who have occupied the White House. Another book on our challenge list, Primary Colors, is a thinly-veiled look at Bill Clinton's presidential campaign. In fact, just in the last few months there has been a thriller by a former president,The President is Missing, by Bill Clinton and James Patterson, and a mystery series featuring Former President Barack Obama and Former Vice President Joe Biden, Hope Never Dies by Andrew Shaffer.
Why this novel is special, however, is that it is an in depth look at the complexities of relationships, how marriages can survive and thrive between two people from vastly different backgrounds and opposite personalities under the pressure of being prominent public figures. Given that The Bestseller Code predicts novels about human relationships should do well, this fits the model perfectly.
Join us on social media:
__________________
What are we reading next?
If you ever have questions about what we are reading next or when we're starting the next discussion, check the 100 Book List tab in the navigation bar at the top of the blog. Links in the list go to the landing page from this blog where the discussion starts. However, this is an open-ended challenge so feel free to jump in with any of the books at any time.
The next book is number 55. A Visit from the Goon Squad by Jennifer Egan (2010) – Discussion begins July 23, 2018
Won the Pulitzer Prize in 2011