Today we're looking forward to starting the next book in The Bestseller Code 100 challenge, A Visit from the Goon Squad by Jennifer Egan for Book Beginnings on Fridays.
Book Beginnings is a fun meme hosted by Rose City Reader blog. To participate, share the first sentence or so of a novel you are reading and your thoughts about it. When you are finished, add your URL to the Book Beginnings page linked above. Hope to see you there!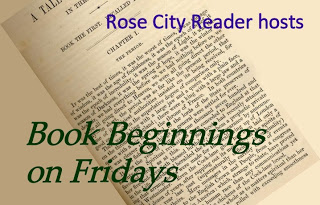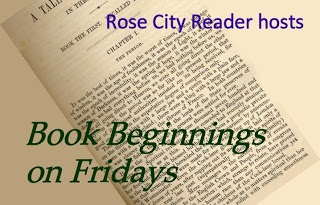 A Visit from the Goon Squad* by Jennifer Egan
(*Amazon Affiliate link)
Summary:  Written like a collection of loosely-knit short stories, the novel centers on a two characters, a recording executive named Bennie and his employee, Sasha. The stories move through different times and settings.
First Sentence:
It began the usual way, in the bathroom of the Lassimo Hotel. Sasha was adjusting her yellow eye shadow in the mirror when she noticed a bag on the floor beside the sink that must have belonged to the woman whose peeing she could faintly hear through the vaultlike door of a toilet stall. Inside the rim of the bag, barely visible, was a wallet made of pale green leather.
Discussion:
Do you think she's going to take the wallet or not?
While in a therapy session, Sasha reveals that not taking the wallet is a bigger challenge than stealing it.  Showing her unusual response to what is essentially an everyday occurrence gives the reader a deep insight into her character right at the start.
I can see why Jennifer Egan won the Pulitzer Prize in 2011 for this novel.
What do you think? Would you keep reading?
Or have you already read A Visit from the Goon Squad?