If you are following along with our series to prepare for NaNoWriMo (National Novel Writing Month), you should have already started working on your protagonist, plus other characters. Now is the time to fill in more details.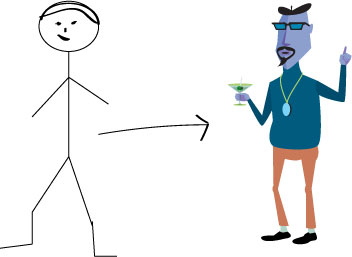 How do you go from a rough sketch to a fully-rounded character? You can add goals, motivations, character arcs, secrets, lies the character believes, faults, and behavioral quirks, among other things.
Character's Goal
The character's goal is what they want to happen (in the future). It is imperative to have a strong goal because it will drive your entire story. Goals can be positive, like wanting to stop a killer or save the town or find a husband. Goals can also be negative, like keeping something secret.
If you are struggling with your character's goals, K.M. Weiland has a good article about how to clarify your character's goals.  If you don't have any ideas at all, try one of a number of character goal generators.
Motivation
The character's motivation is why he/she/they want the goal.
I recently started playing around with idea for a novel about an amateur sleuth who is called to a crime scene because of his expertise. He is reluctant to get involved in the investigation and in fact, has good reasons not to get involved, but the lead investigator keeps drawing him in. The conflict between the two carried the story for about four chapters or so. Then I got stuck. After trying a few different things, I realized my main character wasn't motivated enough to see the problem through. He could easily walk away and there would be no consequences.
The bottom line is you want to have your character highly motivated to struggle with all the problems you are going to throw at her. There has to be a compelling reason why she doesn't just forget about it and take a long bath instead.
Character Arcs
How is your character going to change through the story? Is your character going to discover some inner strength or superpower and become more confident (a positive character arc)? Is she going to be traumatized and spiral into addiction (a negative character arc)?
When I started writing, I read article after article that suggested a character absolutely, positively must change through the course of the story. It was a rule. Change or there is no story. That is law.
Except, as many things you learn about writing, it really isn't true. If you have a pretty cool, together character, it might be that she changes the world rather being changed by it. Some people call this a "flat character arc" or a "static character," both of which sound a bit negative. In truth, this is a great character to have (think Sherlock Holmes). Caveat:  It is likely some of your other characters are going to have to change.
Which arcs do you like better?
A: A somewhat immature character gains confidence and matures.
When Character A's friends dismiss her suspicions about the accidental death of a local artist, she is driven to investigate. After uncovering more mysterious deaths, Character A must find the link and prove they are murders before someone else — possibly herself — is silenced.
B: A mature character reacts to life's circumstances.
When a car crashes off the side of a mountain and kills his boss's daughter, Character B must prove it wasn't his fault before he's sent to jail and loses everything.
Secrets
Having secrets can add tension and conflict to a story. Characters may behave weirdly if they have a deep secret to hide.
Make sure your character's secrets add to the story and aren't dead ends. Remember my reluctant amateur sleuth above? He had a really good reason for not getting involved in an investigation. It turned out he was in witness protection and needed to keep out of the spotlight to protect his identity. It was a great secret, but killed the story.
Self-Delusion (Lies the Character Believes)
We all protect ourselves by denying truths. Scour those mistaken beliefs for conflict and tension. For example, a character may believe she wants justice, but what she's really seeking is revenge. Another character believes his friend will come through for him in his time of need, but in reality the friend is selfish and lazy.
Katherine Grubb at 10 Minute Novelists has a whole article of how to develop mistaken beliefs into story gems.
Quirks and Inconsistencies
Although we rarely notice it, real humans are inconsistent. For example, when I was in college a group of friends and I used to go to a vigorous aerobics class, then afterwards meet at the ice cream shop for desert and consume a bunch of calories. My husband regulates the thermostat with an iron fist, then leaves the refrigerator door open for 15 minutes while he makes a sandwich.
Develop those quirks and inconsistencies. A perfect character without any inconsistencies is boring to read about.
Exercise
Construct lists of your character's faults, quirks, and mistaken beliefs. Try to mix them up and think outside of the box. When you have a few different ones, brainstorm how they will improve your story. Cross out the ones that reduce tension or take your character out of the story.
Is she afraid of butterflies?
Does he get hiccups when he has to lie?
Do they secretly love cats even though they have a dog?
Does she never clean out her email and has 16000 messages?
Does he write notes on pizza boxes, then throw them out?
Do they think their kids are terrible, when they are really pretty great?
#####
Visit our 30 Day Novel Prep Page for all the links.