Time to start the discussion of our next novel from The Bestseller Code 100 list, 77.  And the Mountains Echoed by Khaled Hosseini.
This post does not contain spoilers.
(*Amazon Affiliate link)
Summary: The novel starts in 1952, when an Afghan father sells his little daughter, separating her from the brother who has raised her. It follows the waves of events that radiate out from this traumatic beginning.
This is Khaled Hosseini's third novel, published in 2013. As far as I can tell, he hasn't published any since? A medical doctor by training, his previous novels were The Kite Runner and A Thousand Splendid Suns.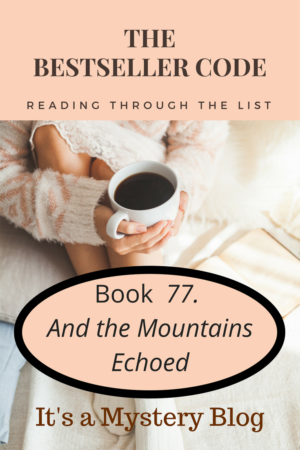 Have you read And the Mountains Echoed by Khaled Hosseini? We'd love to hear your thoughts.
Related posts:
Book-beginnings, a discussion of the first line of the novel
Karen's review from a reader's perspective
Roberta's review from a writer's perspective
You can also join us on social media:
Do you have suggestions for ways to improve this reading challenge? We'd love to hear them.
Have you written about And the Mountains Echoed by Khaled Hosseini? Feel free to add a link to your review in the comments.
__________________
What are we reading next?
If you ever have questions about what we are reading next or when we're starting the next discussion, check the 100 Book List tab in the navigation bar at the top of the blog. Links in the list go to the landing page from this blog where the discussion starts. However, this is an open-ended challenge so feel free to jump in with any of the books at any time.
The next book is number 76. The Cuckoo's Calling by Robert Galbraith (2013) – Discussion begins October 2, 2017
Crime fiction/Mystery by J.K. Rowling writing under a pseudonym