Time to start the discussion of our next novel from The Bestseller Code 100 list,  Fifty Shades of Grey by E. L. James. See notes below.
This post does not contain spoilers.
Fifty Shades of Grey* by E. L. James
Summary:  When Anastasia Steele fills in for her friend and interviews wealthy young entrepreneur Christian Grey, she is both intimidated by and attracted to his looks and spirit. Starting an affair with him, she discovers some dark secrets that she isn't sure how to handle.
This novel is the first of a trilogy.
Important Notes
Note 1:  Warning:  This is an Erotic Romance, for mature audiences only.

Note 2:  Jodie Archer and Matthew L. Jockers devote much of chapter three of The Bestseller Code to explaining the phenomenal success of this novel despite that fact it was panned by critics. Their discussion starts on page 73.
Note 3:  This novel was first written as a fan fiction tribute to Stephanie Meyer's Twilight books. The original title was Master of the Universe and the author used the pen name Snowqueens Icedragon. You can find a PDF of the original linked to the Master of the Universe title in this article.
Note 4.: In Dave Barry's book, You Can Date Boys When You're Forty, he has a hilarious and insightful essay about Fifty Shades of Grey entitled "What Women Want." (Also available online at Time.)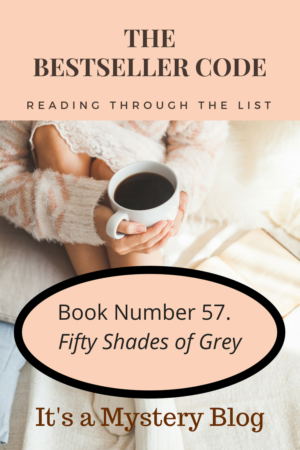 Have you read Fifty Shades of Grey by E. L. James? We'd love to hear your thoughts.
Related posts:
Karen's review from a reader's perspective
Roberta's review from a writer's perspective
(We aren't doing a book beginning this time because Roberta discussed the beginning in her review)
You can also join us on social media:
Do you have suggestions for ways to improve this reading challenge? We'd love to hear them.
Have you written about Fifty Shades of Grey by E. L. James? Feel free to add a link to your review in the comments.
__________________
What are we reading next?
If you ever have questions about what we are reading next or when we're starting the next discussion, check the 100 Book List tab in the navigation bar at the top of the blog. Links in the list go to the landing page from this blog where the discussion starts. However, this is an open-ended challenge so feel free to jump in with any of the books at any time.
The next book is number 56. American Wife by Curtis Sittenfeld (2008) – Discussion begins July 9, 2018
Bildungsroman