Time to start the discussion of our next novel from The Bestseller Code 100 list,  Beautiful Disaster by Jamie McGuire.
This post does not contain spoilers.
Beautiful Disaster* by Jamie McGuire
Summary: When good girl Abby Abernathy meets bad boy Travis Maddox, she resists his charm because he has the reputation for one night stands. Her keeping him at arm's-length makes Travis want Abby even more. To get closer to her, he proposes a bet. If she wins he must refrain from sex for a month or if she loses, Abby must move in with Travis for a month.
This novel is a defined as a "new adult" romance. It is followed by a loosely linked series featuring the Maddox brothers, including Beautiful Oblivion, .
Have you read Beautiful Disaster by Jamie McGuire? We'd love to hear your thoughts.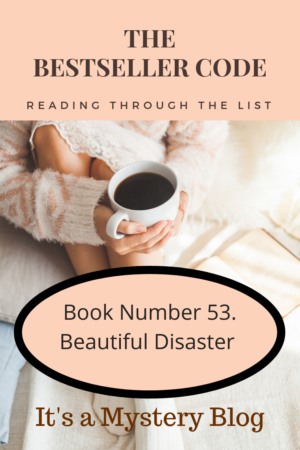 Related posts:
Book-beginnings, a discussion of the first line of the novel
Karen's review from a reader's perspective
Roberta's review from a writer's perspective
You can also join us on social media:
Do you have suggestions for ways to improve this reading challenge? We'd love to hear them.
Have you written about Beautiful Disaster by Jamie McGuire? Feel free to add a link to your review in the comments.
__________________
What are we reading next?
If you ever have questions about what we are reading next or when we're starting the next discussion, check the 100 Book List tab in the navigation bar at the top of the blog. Links in the list go to the landing page from this blog where the discussion starts. However, this is an open-ended challenge so feel free to jump in with any of the books at any time.
The next book is number 52. Extremely Loud and Incredibly Close by Jonathan Safran Foer (2005) – Discussion begins December 17, 2018
Literary Fiction