Are you going to participate in NaNoWriMo (National Novel Writing Month) this year? If you haven't heard of it before, that's the challenge to write 50,000 words as a beginning or part of a novel during the month of November.  If you are interested, now is the time to get ready.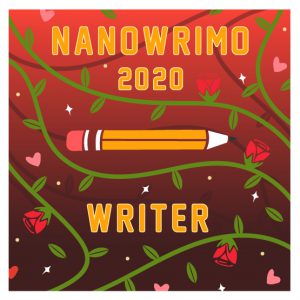 Why Prepare?
If you are planning to write a novel for NaNo, it is a good idea to start preparations in October — or even earlier. Why? If you:
Set aside a time think about your project each and every day
Organize and prepare the background materials each and every day
Start a habit of writing each and every day
the momentum can help carry you through November to success.
October 1:  Capture Your Idea
I. Start by gathering your basic writing materials.
You will obviously need a word processing program of some sort. Many writers use Google Docs, Microsoft Word, or Scrivener. Take the time now to pick one and set it up. Figure out how you are going to back up your files as well.
Unless you are completely a tech addict, you will also want some sort of notebook. I put pen to paper when I'm starting a new novel as a place to do mind maps or brainstorm, to jot down those notes that come in the middle of the night or while I'm driving down the road, and to experiment with ideas when I'm stuck on a plot point. I use it to draw maps, buildings, etc. for settings, too.
Personally, I need a three-ring binder for my projects as well as a notebook. I use the binder to hold hard copies of research from newspapers or magazines, in addition to paper copies of the manuscript, if I print them.
Don't spend too much time on this on the first day. Organize, put titles on your materials, and personalize or decorate as you go along. Save these tasks for the days when you need a mental break or as a reward after you've done good work.
II. Use your materials to write down your glimmer of an idea.
Now is the time to commit that idea you've been throwing around in your head onto the page.  Yes, now. Type or write the words, no matter how raw.
For fiction, try to include a rough idea for a protagonist, the event or person who started them on this path (inciting incident), what their goal is, and what the conflict is. You will also need an antagonist, but depending on your genre, you may or may not want to reveal them in the premise. For example, in a mystery you would never reveal the murderer in the premise, but in a romance you can reveal who is stopping the wedding.
If you don't have an idea for your project, you might want to consult the NaNo Prep 101 Guide (sign in and look under resources). They show how to "borrow" a premise from a favorite novel, then tweak it to make it your own. If that doesn't appeal, you can be adventurous and type "random plot generator" into your favorite search engine. There many different kinds. Some are specific to genre and others are general, like this one at Writing Exercises for example. Caveat:  you should probably set a timer beforehand so you don't go down a rabbit hole.
Once you have jotted down some words, shape them into a rough premise. Think of it as the baby version of the book blurb that entices readers on the back of the book. Here's a made up one:
When he's called in to investigate a hit-and-run accident, expert consultant John Smith discovers the death is intentional.  He must find out the victim's identity before the murderer strikes again.
If you need help, K.M. Weiland has a post about finding your premise. (We'll use her 6-Must Have Elements of a "Wow" Story Premise post to tweak it later when we are ready to start an outline.)
How does your premise look? If you want to make it fresher, try a mind map or other visual aid to help mix things up.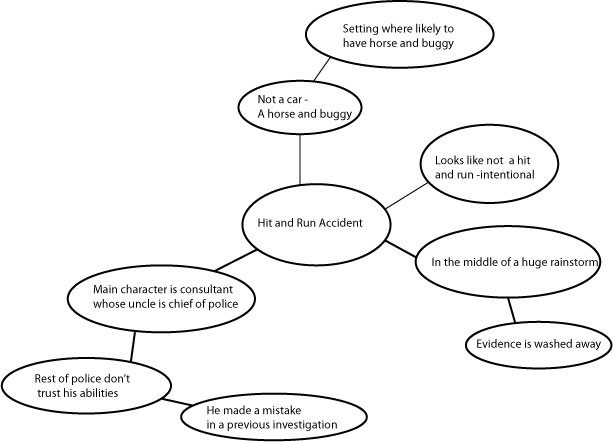 See how intentionally mixing things up led to the idea it is a horse and buggy instead of a car that is involved in the accident?  That takes the story in a novel direction.
If you have a premise you'd like to share or tweak, be sure and leave it in the comments.
Up next:  Developing Your Protagonist

#####
Visit our 30 Day Novel Prep Page for all the links.